One of the perks of my career as a professional designer is occasionally being on television.  Last week, I taped two segments sponsored  by the Warm Company (fabulous batting!) on "Martha's Sewing Room" for PBS.  This show is hosted by Martha Pullen and demonstrates all kinds of sewing techniques – from hand sewing to machine sewing as well as embroidery and incredible hand sewn heirloom items. The show is filmed at the University of Alabama, my alma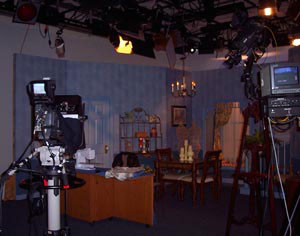 mater.
I find all the behind-the-scenes interesting and wanted to share it with you.  Some of the photos are dark, but even with the lighting on, its not very bright in the studio.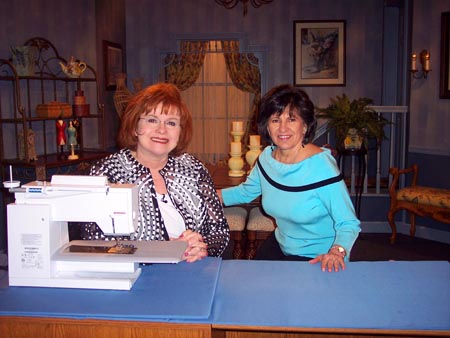 That's me on the right, sitting on the set with Martha, a truly warm and charming lady.
What's a TV show without bloopers! My blooper happened when I started to sew.  I reached for the pressure foot lever to lower the pressure foot and could not find it.  My hand was groping all around trying to find the lever when I hit the snap-on pressure foot and knocked it off. Of course, it turned out that the pressure foot lever was there all along, it was just higher up on the back.
I used my new fabrics, Sweetheart Ballerinas by Quilting Treasures for the items I created for the show.  
This window curtain is quilted (using batting from Warm Company) to hang over the window by the tabs at the top.  Creating a window treatment is an additional way to use your quilting skills and this one is easy.
Outside the set, all the projects for the segments being taped are lined up. 
The 2nd segment that I was on featured a naptime roll-up mat for children to use for their afternoon naps.  It was made with the pink colors of Sweetheart Ballerinas.  I also made the aqua pillowcase.
A huge workroom is needed to coordinate everything for the show.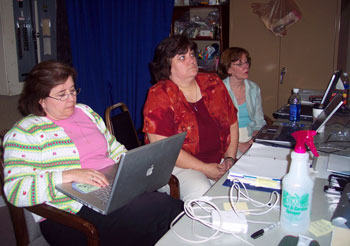 Everyone is working away on their laptops.  Martha's producer, Charlotte Potter, is in the center. It was a very pleasant and fun day.
I hope you will watch for me on the shows on PBS, in addition to becoming a regular viewer of Martha's Sewing Room.  One show will be shown after August 2007 and the other one will be shown after Christmas.