I have always loved Art Nouveau and to see its influence on a city was awsome and inspiring. Art Nouveau is everywhere in Prague - doors and doorways, decorative trim on buildings, the structure of the buildings, windows, stained glass, light fixtures and art. The city is really "eye candy".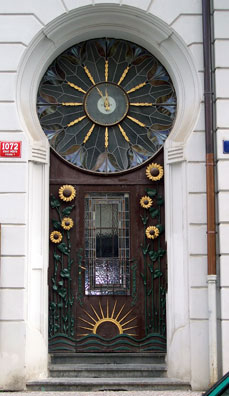 This door is in the shape of a sunflower with sunflower decorative motifs. Its a huge entrance as the door is area below the round design.
This was another fabulous entrance that we saw.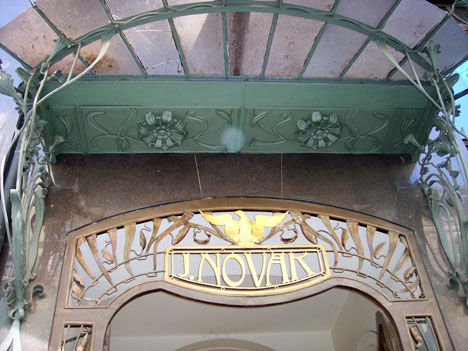 The doors were open so I took a separate picture of one of the them.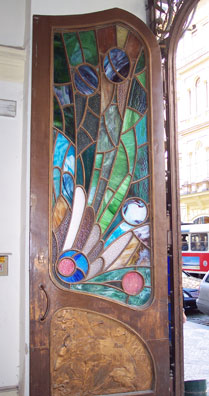 This entire building was fabulous. We just happened to stumble on it as we were wandering down a side street and found an entire block of Art Nouveau buildings. This was decorative trim on one the buildings on this block.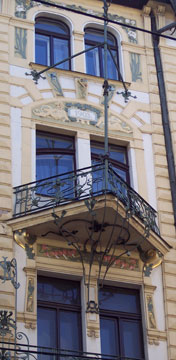 The buildings had beautiful paintings and more elaborate scrollwork.
You really had to look everywhere as you walked as well as look up toward the top of the buildings to find the most amazing decorations.  Most were hard to photograph so I had to store them in my memory.
The most fabulous Art Nouveau building in Prague is the Municipal House.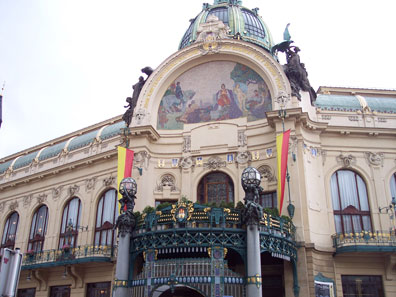 This building is the home of Prague's largest concert hall and a few restaurants.  We were so fascinated with the building that we went back that night for a classical concert.  The windows were all stained glass.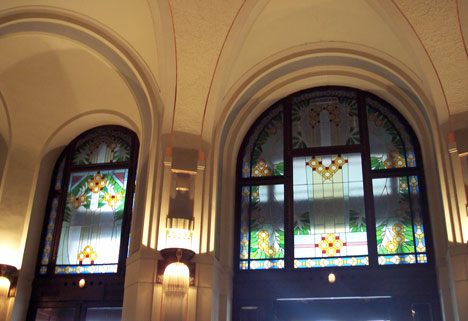 My pictures do not even begin to do justice to this building with its beautiful windows, light fixtures and other trim or all the Art Nouveau found in Prague.
This building is in Josefov, the old Jewish Quarter, which had many beautiful Art Nouveau buildings.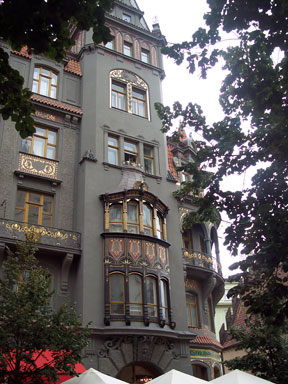 In addition to Art Nouveau, Prague's architecture spans thousands of years.  There are fabulous buildings intermingled throughout the city in Medieval, Baroque and Renaissance styles and are in various colors. They are so picturesque especially since so many had window boxes filled with colorful flowers.
Please revisit my blog so see more of the sights of Prague.