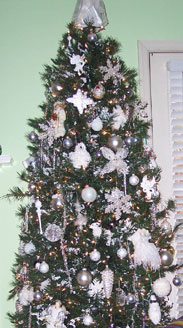 I love decorating for Christmas and enjoy putting up 2 trees. I decorate one tree all white and silver. The other tree is decorated traditionally with all my cherished ornaments that I've accumulated over the years, including an ornament given to me by my first grade teacher.
In talking with several freinds throughout the holidays, all have mentioned decorating with ornaments that have special meaning, from ornaments hand made by their children, first ornaments as a married couple, to ornaments that have passed down from ancestors.  I have ornaments that hung on my grandmother's tree when I was a child.
Tradition is such an important part of the holidays and everyone has their own traditions. I want to wish each of you wonderful holidays filled with your own special traditions.