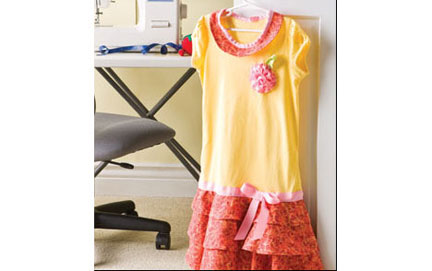 Take a tee shirt out of your closet and turn it into a dress with a few simple sewing instructions.  I designed this child sized "T-Shirt Flounce Dress" for Sewing Savvy magazine.  The pattern and instructions are on their website for free downloading so that you can sew a few before school starts  The dress is embellished with ribbon and has a ribbon flower that you can make.
I chose a yellow and orange color combination, but you can come up with your own color combinations based on the tee shirt colors you choose.  And why not enlarge the pattern and make one for yourself!!  It would make a comfy dress to shop in or even a cute dress for the beach!
Best to you and all that you do!