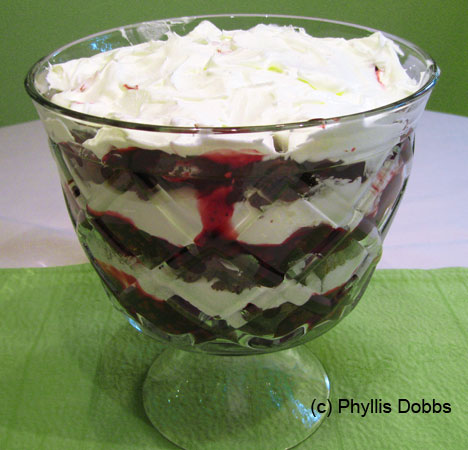 Last night was my turn to host my girls' poker group. Its a fun, chatty night, and we do manage to play a few rounds of poker between eating and talking.  My husband says that for refreshments, we should do like guys – beer and chips.  But we consider food an important part of our socializing and go way beyond chips!  For my dessert last night, I made this blackberry trifle.  It was very easy and you've probably seen similiar recipes in magazines with cherries.
As I was grocery shopping for the ingredients, I had a can of cherry pie filling in my hand when I spotted blackberry pie filling.  For some reason,  I was in a blackberry kind of mood so I switched the cherries for blackberries. Good decision!
This recipe is so easy and simple and very high in the YUM factor.
Brownies
Cool whip (I used the lite version)
Blackberry pie filling
Nuts (optional)
I used a turtle brownie mix to make the brownies (it had nuts in it so I didn't add more).  Crumble some brownies in the bottom of your dish.  Layer on top with the blackberry pie filling and then cool whip.  Sprinkle nuts (optional).  Repeat layers until you run out or the bowl is full. 
I had brownies left over and donated these to my husband who was standing by drooling.  I used one can of pie filling, and had some of the large size Cool Whip left over to enjoy later.  Since it has no calories, I can splurge. The blackberry triffle was a hit at poker and some even went back for seconds!
A BIG thanks to my friend Debba Haupert for her blog post on our poker night!  Check her Girlfriendology blog out.  Its dedicated to all you girlfriends out there! 
(By the way, I did win a little – up 60 cents at the end of the evening!)