Wednesday, October 29th, 2008
Partisan Pieces: Quilts of Political & Patriotic Persuasion
The Women's Museum: An Institute for the Future, Dallas, TX
November 6, 2008 – March 29, 2009
Opening Reception – Thursday, November 6, time 6 PM – 8 PM.  The reception is free and will feature several speeches about the exhibit.  RSVP for the reception -  rsvp@thewomensmuseum.org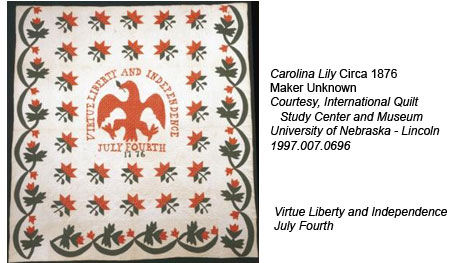 Beginning early November, The Women's Museum: An Institute for the Future in Dallas, Texas, will host an exhibit entitled Partisan Pieces: Quilts of Political & Patriotic Persuasion as part of the city-wide Quiltmania II.  Curated by the International Quilt Study Center, University of Nebraska-Lincoln, the exhibit features 15 quilts illustrating 19th and 20th century political life from the perspective, and from the needles, of well informed and patriotic American women.  In the days before women's suffrage, these quilts served as women's voices. The Women's Museum is the only national women's history museum in the nation and is an affiliate of the Smithsonian Institution.
Come visit us and read between the stitches to discover the political experiences of these incredible women!  For more information, visit www.thewomensmuseum.org.
The Women's Museum: An Institute for the Future
3800 Parry Avenue, Fair Park
Dallas, TX 75226
214-915-0860
Hours: Tuesday through Sunday, noon to 5 p.m. (closed Mondays and most major holidays)
Admission: $5/adults, $4 senior citizens/children 13-18, $3 children 5-12, admission is free for children under 5 and museum members.
Quilt Mania II, the largest collaborative exhibition of quilts, is planned September 26, 2008-April 1, 2009 at 18 Dallas area cultural institutions. More than 300 quilts, from all over the world, will be exhibited during the six month event. Each institution will feature works based on their mission and all the quilts will be compared and contrasted across the exhibitions.