International Quilt Market is always such fun in additional to being such a beautiful show with all the colors of fabrics and quilts everywhere.  I have lots of photos and information to share with you from my recent trip to Houston for  Quilt Market and will be blogging all week with details.
Quilting Treasures, the fabric company that my fabric designs are with, also produces Marie Osmond's fabrics.  I was asked to design a quilt with Marie's new fabric line "Gypsy Breeze" for Quilting Treasures' booth at Quilt Market.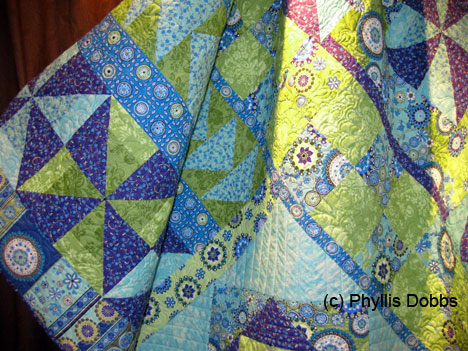 When I saw the fabrics, I knew I would love designing this quilt, especially with the blue, aqua, green and purple colors. (the colors are a little distorted in the right side of the photo by the show lighting).
Marie attended Quilt Market and spent time in Quilting Treasures booth meeting attendees.  I met and talked with her about the quilt.  She was very complimentary and pointed out her favorite parts of the quilt as well as posing for a photo with a hug!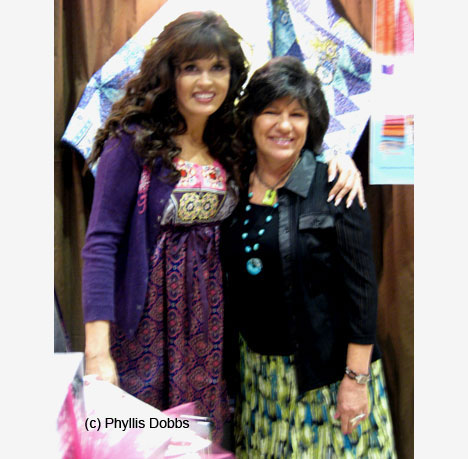 Marie with Donna McKinney from Quilting Treasures modeled aprons made with other fabric collections of Marie"s.  Julie Johnson, editor of Sewing Savvy magazine, center in the photo, brought the 2 aprons made with Marie's fabrics that will be in the book The Best Apron Book Ever.   (An apron that I designed will also be in this book and I designed another apron with some of Marie's fabrics that will appear in the book Sew Special Fat Quarter Gifts.)  Both books are being edited by Julie.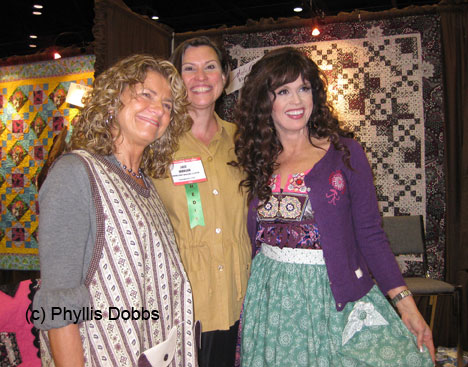 It was an absolute delight meeting Marie! And she is a quilter as well.  She brought a quilt with her that she had just made before Quilt Market, but unfortunately, I didn't get a picture of it.
Check back tomorrow for another Quilt Market post with an exciting and fun new product!