I taped two segments for the Martha Pullen's Sewing Room yesterday for the Warm Company ( they make the fabulous batting and fusible web that I use in all my quilting and applique projects).  The taping was exciting and Martha is such a warm and nice person.  Well, not just her, everyone who works for her is the same way, so it was a very enjoyable day.  Of course, I carried my camera and took photos during the day.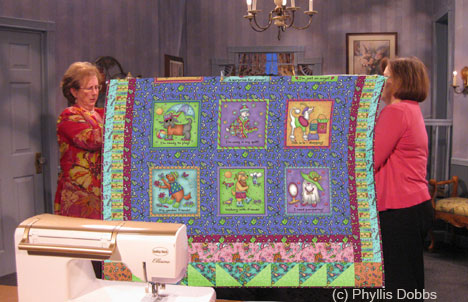 The project featured on one segment was a quilt, which I made using the fabrics that I designed, "Its a Dog's Life" for Quilting Treasures on which I demonstrated a stipple quilting technique. Martha's assistants, who are great at setting up the sets, are arranging the quilt.
For the second segment, I designed this apron shown here with Martha.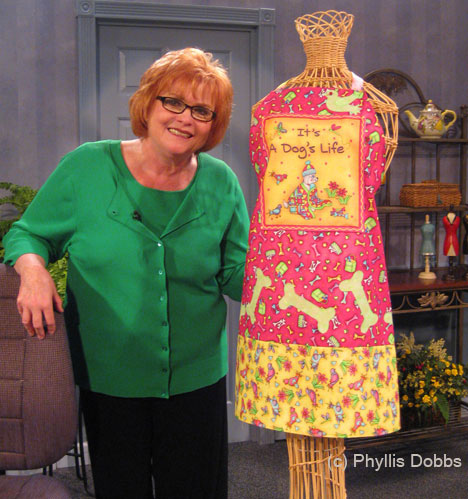 It also is made with "Its a Dog's Life" fabrics and features applique. The fuchsia fabric used for the main part of the apron features dog bones, so I appliqued dog bones around the bottom.  Since the block and yellow fabric also feature birds, I appliqued a bird at the top above the pocket. I know I'm short, but standing next to the apron which was raised for viewing by the camera, I look even shorter.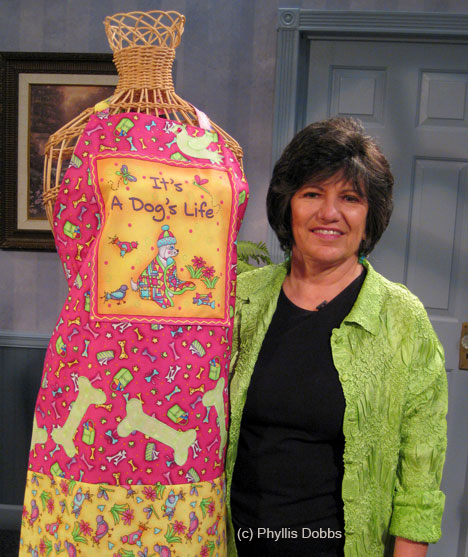 The segments will be shown this fall and winter (2009-2010), so please watch for it on your local stations.  I am working up instructions for the quilt and apron and will post the free patterns here shortly.
Thanks for visiting!
Phyllis