This Halloween mask is so quick and easy to make.  Make one for a Halloween party or just to wear when opening the door for trick-or-treating.  Make masks for the kids and let them help or make their own.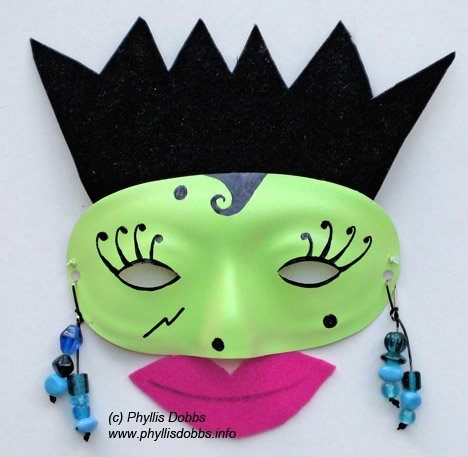 I bought a pack of 3 plain white masks (very cheap – $2) at a craft store this week.  I used green spray paint to cover the mask, then used a black Sharpie to draw the features.  This is where you or the kids can get really creative in painting the mask since Sharpies and spray paint come in lots of colors.  After everything dried, I cut the black hair from stiff felt and glued it to the back.  I cut the lips out of bright pink felt, and cut 2 tabs on the top edges.  I glued the tabs behind the mask so that the lips would dangle down.  After punching holes in the side edges, I tried some of my regular earrings but decided they weren't chunky enough.  I made some with large beads.  If you don't want dangling earrings, you can use large O rings to make hoop earrings.
Let your imagination be your guide to making your mask.  Go through your stash (or junk drawer) and find fun things to decorate your mask. You can make it as fun, spooky or scary as you like and you can be sure it will be an original one-of-a-kind.
Happy Haunting,
Phyllis