Embroider a plain gift bag to make it unique and tell someone they are special – all you need is some Pearl Cotton and assorted buttons.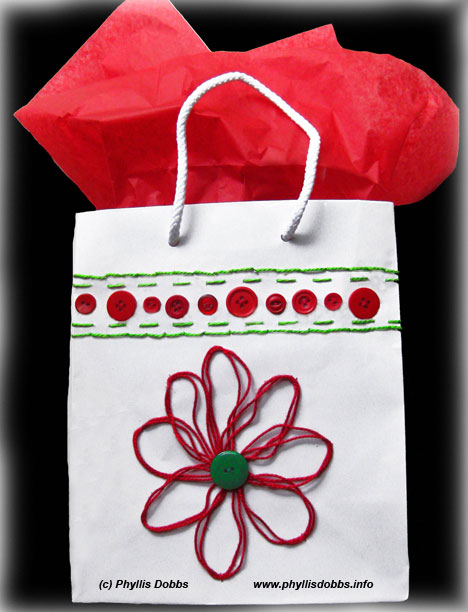 This is so quick and easy to make, you can make several.  Starting with a plain white gift bag, I used Pearl Cotton #3 from The DMC Corporation for the embroidery.  Draw 2 top lines 1 1/4″ apart and stitch the lines with a back stitch using 1 strand of green Pearl Cotton.  Stitch the inside lines with a running stitch and then stitch assorted sizes of red buttons between the embroidered lines.
Stitch a large lazy daisy flower with 2 strands of red Pearl Cotton.  Use a second needle and red sewing thread to anchor the loops at the outside edge with a small stitch over the Pearl Cotton.  Sew a large green button at the flower center to finish the bag.
You can add your own personal touches as you make your bags.  I would love to see what you make.
Have fun and happy stitching.
Phyllis
Copyright – this design if for your personal use and may not be used commercially without written permission.