Welcome to my turn in a Holiday Blog hop.  I'm delighted to be part of this blog hop put together by talented artists.  We are taking turns sharing a fun holiday project or craft and hope that you are inspired to make some using our free patterns and instructions.  And leave a comment on each of the artists blog and you may win a random drawing for a prize by each artist.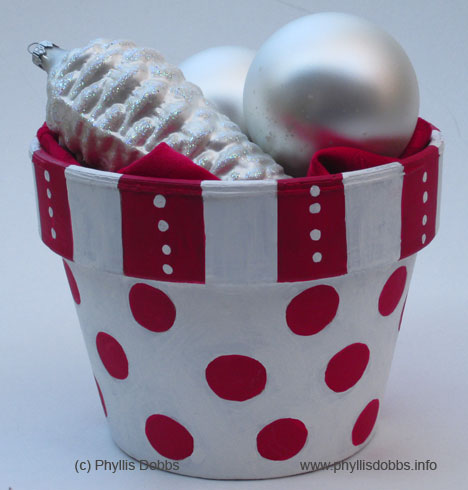 I love to entertain over the holidays and often need more festive dishes or bowls.  I painted this terra cotta flower pot to give an extra bowl to hold holiday treats (or even a plant).  Since stripes and dots are very popular design elements and which I also happen to love, I used these to decorate it.  It's easy to do and you can make one and use it that night.
1.  Use a terra cotta flowerpot the size of your choice – you can make it as big or small as you like.  Wash the flower pot and go over it with alcohol to disinfect it.
2.  With a pencil, draw the lines for the stripes around the rim.  I made the stripes on mine about an inch wide.  Also, draw 1/2 inch circles randomly on the bottom of the pot.
3.  Paint the red dots and the red stripes, alternating the stripes.  Paint the background of the bottom pot white and the remaining stripes.  It will take 2-3 coats of paint.  Let it dry between coats.  Paint the inside of the pot your choice of white or red.
4.  When the paint has dried, add small white dots in a line on the red stripes.
5.  After all has dried, use a clear satin acrylic to seal the paint.
6.  Fill with your choice of snacks, chips, ornaments or whatever you desire.
Please leave a comment to be entered into a random drawing for a prize.  Also please visit the other artist that are participating in this blog hop and leave comments for a chance at more prizes.
Nov 14 – Terri Conrad
Nov 15 – Brenda Pinnick
Nov 16 – Tori Higa
Nov 17 – Joyce Shelton
Nov 18 – Me!  Phyllis Dobbs
Nov 19 – Cherish Fleider
Nov 20 – Joy Hall
Nov 21 – Barbara Johansen Newman
Nov 22- Sharyn Sowell
As part of this blog hop, we are supposed to answer these questions to give some information about ourselves.  Mine are below.
5 things we might not know about you that you'd like to share.
1.  I love to listen to music when I work and have music of every genre except rap.  The type of music I play depends on what I'm working on.
2.  I planted lettuce for the first time this fall and was delighted that it turned out so tasty.  The only place I had to plant it was in the flowerbed by the mailbox, but the bright greens looked very pretty and my husband backed down from being horrified by veggies growing front and center of our yard.
3.  I'm a color junkie and often buy stupid stuff just because I like the color, however anything with great color is not stupid! Like a purple cooler to carry to the beach when we have several in basic red and white.
4.  I enjoy social gatherings with my girlfriends such as bunko, girl's poker, pokeno and book club. And, I don't have time to read the books so I go to listen, socialize and drink wine.
5.  I feel guilty because I don't get around to exercising as frequently as I want – almost non-existent at this point as I'm working hard on close deadlines.
5 things going on in my creative world.
1.  In October, I signed with a fabulous agent, Jewel Branding & Licensing and am very excited about this partnership.
2.  I'm working on several new art collections and am looking forward to seeing new products created with my art at the January markets.
3.  I'm putting together a quilt e-book.
4.  I've been creating Christmas crafts to share with my blog readers.
5 things that really inspire me.
1.  Color, lots of it.
2.  Humor
3.  Nature, especially the greens
4.  Flowers, even though this is technically part of nature.
5.  People – family, friends, and other artists.  I'm also really inspired by the paintings of Matisse – love all his work.
Be sure to leave a comment and be included in a drawing for a prize.
Phyllis