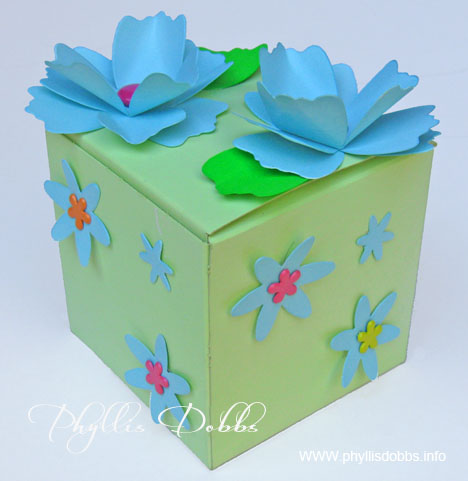 This week, we used Brenda Pinnick's Flower, Beauty Bloom Sizzix dies for our Blog Hop project. I really love flowers so I enjoyed using flowers to decorate a gift box – a great way to add a special touch to gift giving.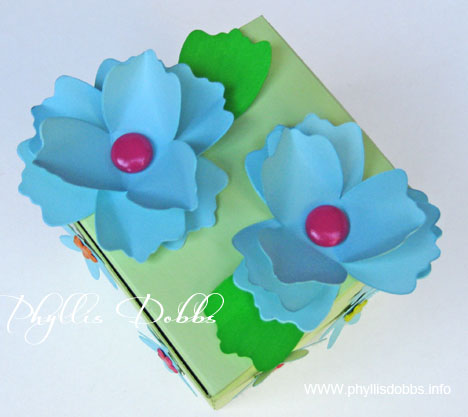 The materials used were:
Sixxiz die #655455 by Brenda Pinnick
Card stock
Spray paint – aqua and green by Krylon
Green acrylic paint
Gift box
Brads – round and floral designs
Hole punch
Glue – Beacon Zip Dry for paper
Instructions:
I spray painted the box with green paint and all the flower pieces with aqua paint.  2 petal sections were painted a darker green to use as leaves.
After the paint dried, I punched holes in the center of the flower pieces.  2 flowers were created by assembling 3 large flower pieces for each flower and putting a round brad through holes.  I turned up the petals of the top 2 pieces. After punching holes in the box top I attached the flowers with the brads.
Flower shaped brads were ued to attach the large flat flowers to the sides of the box and glue was used to attach the small flowers.
Be sure to hop to the other blogs in the blog hop by clicking on the links in the Sizzix badge in my sidebar!  There are some amazing designs.
All I need to do now is add the gift!
Happy Crafting!
Phyllis