In a mad dash outside in the heat and humidity to quickly water some plants, I was stopped by the beauty of this spider and her (his?) web. The beautiful Chevron stitch down the center of the large web in my rose bush was spectacular.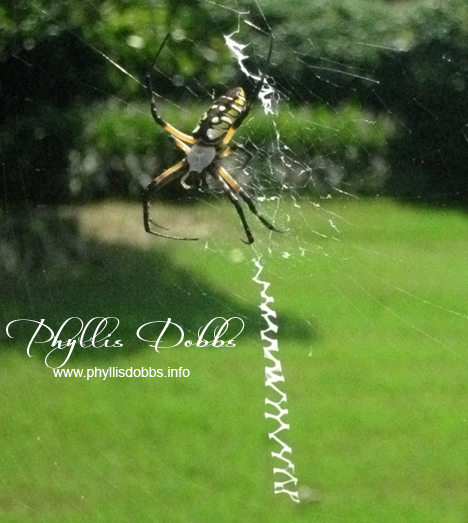 This spider knows needlework, so I'm assuming it's a her (I know there are men who create gorgeous needlework and think Rosie Grier  and his needlepoint, but women do outnumber in this category). I know spiders can be terrifying, in spite of being such small creatures. But you have to admit that this one is a beauty with its yellow colors.
I did find this spider on the internet and its name is, are you ready?  "Black and Yellow Garden Spider".  That's not very imaginative and I think she deserves a much prettier name. Any suggestions for a name – please leave a comment if you do!
I wonder if she knows any other stitches….
Phyllis
Note, it has been almost a week since I posted this and the spider is still there.  But her body has doubled in size!