I love comments you readers post to my blog or email me. Today, I want to feature one of my readers, Dee Fox of Cedar City, UT who had a prior business of helping people organize their homes. She posted a comment on my recent blog post on spray painting my filing cabinets for my studio redecorating.  I emailed her and she mentioned that she loved finding unique thrift items to refinish for her sewing room and  how she had it organized. I asked if she would mind sharing some of her finds and tips with you.
Dee lucked up when she found two filing cabinets in a thrift store for $7 each. What a find!! She immediately spray painted them and added another salvage of an old lid from a fish tank.  The result – a new desk. (Tip from Dee, light a vanilla candle to lesson the temporary smell of spray paint. I just love the smell of vanilla!)  I also love the rack with blue holders for markers and the button jars that she placed on the desk. Dee also keeps a dish of cat food handy for her cats, Fancy and Coco Bear.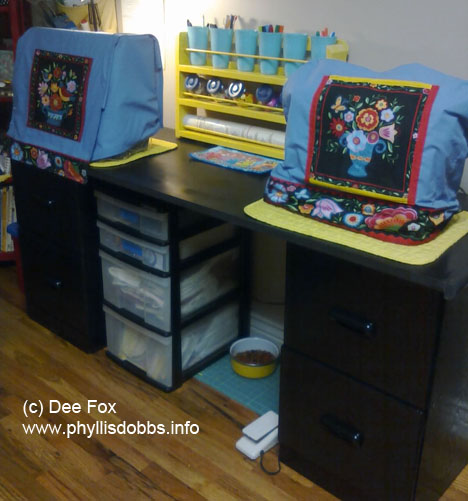 Dee found this small cabinet in her father-in-law's garage and spray painted it blue. His loss, her gain! Its the perfect size for storing her fat quarters.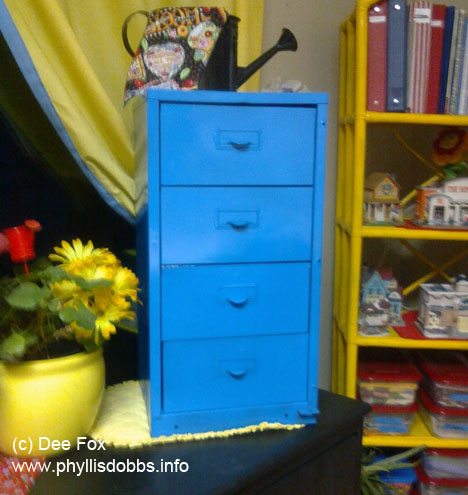 She found this old cabinet for $40 at a yard sale.  Again, Dee painted it using a cheery red and uses it to store more sewing supplies.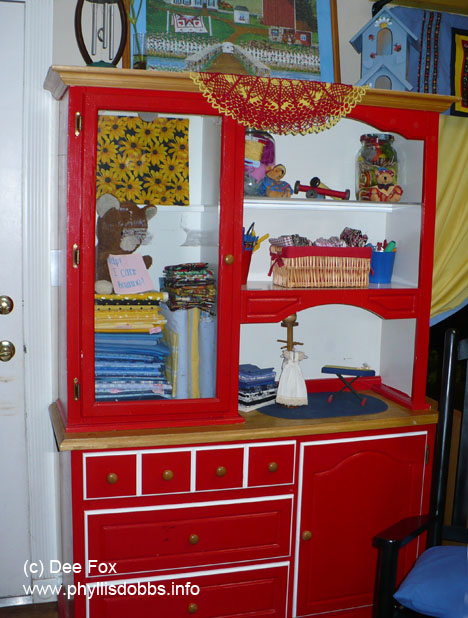 Dee's favorite organizing tip for craft or sewing areas is to group like things together. She keeps everything she needs at arm's reach for her sewing area as well as her cutting table and other areas. Keeping scissors, rotary cutters, rulers and other needed items close by prevents needless interruptions for trips to locate them as well as prevents time lost while searching for them.  A great example of keeping like things together is Dee's stablizer holder that she sewed to hang close by.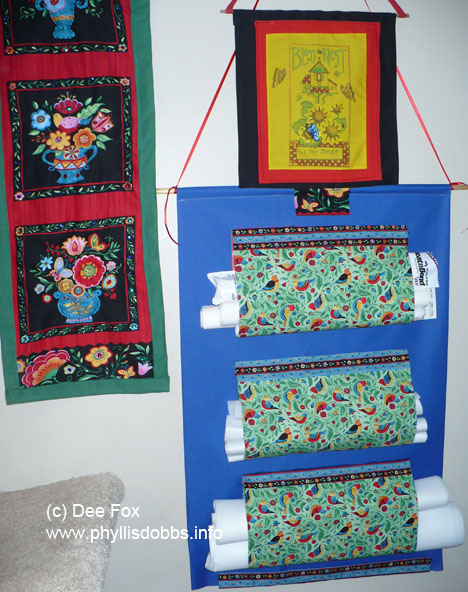 You can see from this photo that Dee is well organized and well stocked with her sewing supplies. I doubt she has to stop in the middle of a project and run to the store. You can also see that she makes great use of plastic containers and carts, which are ideal for storing craft and sewing supplies.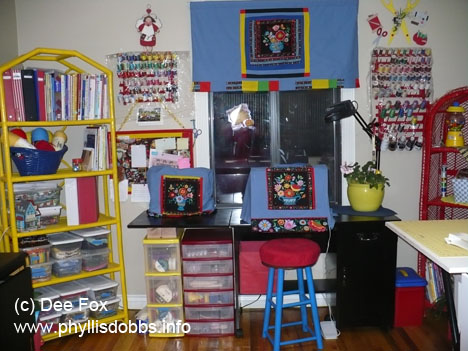 Dee also recommends that you make your space happy!  Doing so will make you want to spend more time in it.  I love this happy and decorative setting below where she uses little pots to hold fat quarters and a colorful lamp made with terra cotta pots.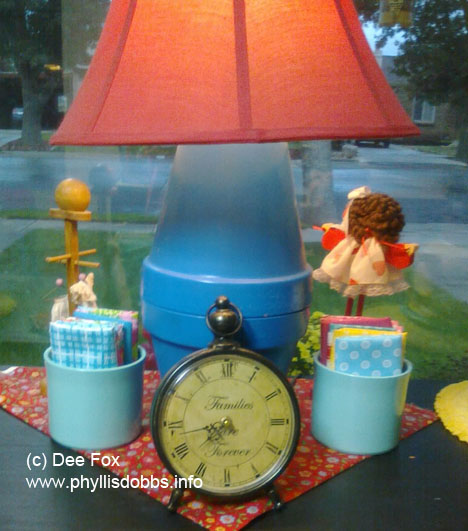 When starting a project, Dee gathers everything for that project and keeps them togehter in a clear container.  She says the way she stays on track is to make lists for everything she needs to do.  She got away from making lists temporarily then realized she was not getting anything done. Being able to mark things off of a list also gives you a feeling of accomplishment.  Another tip is to always straighten your studio or work space at the end of the day so you don't have to face a mess the next day.
Dee also shows that you don't have to spend a fortune to have a great craft or sewing space or room. Repurposing old furniture or belongings, found or thrift store items is inexpensive as well as giving them a new life and giving you some unique items.
I love repainting things and am delighted at seeing Dee's repainted treasures. Paint is inexpensive yet gives you such dynamic results and a quick makeover as well as create a mood. So keep your eyes peeled and imagine what something would look like with a make-over.
Thanks, Dee, for allowing me to feature your amazing and very well organized studio!  I love seeing studios and yours is a real treat!
Phyllis