I'm still in awe of all that I saw at the International Quilt Market in Houston and want to share more of the photos I took of products and colors from Market in a continuation from Part 1 of my prior post on Quilt Market.
This gorgeous dress in the Pfaff booth stopped me in my walks. This fuchsia dress has beautiful machine embroidery embellishment by Pfaff sewing machines. It was simply stunning and fit for Cinderella to wear to the ball! And look at the embroidery on the black coat next to the dress.
Not all products at Quilt Market are sewing and quilt related. Karyn Kozak exhibits with her beautiful FIMO polymer clay products.  Created with different colored pieces of clay in the millefiori technique, Karyn created the beautiful vases and leaves below as well as jewelry, barrettes, and other items. Visit her website to see the ladybug pins and jewelry she created.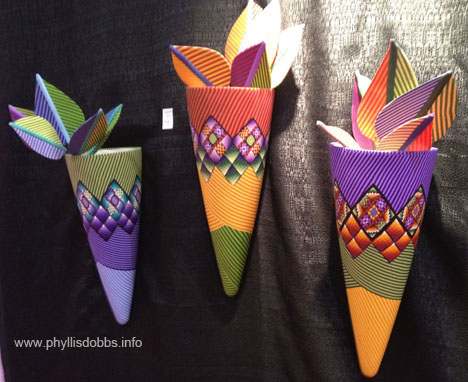 and these fabulous teapots…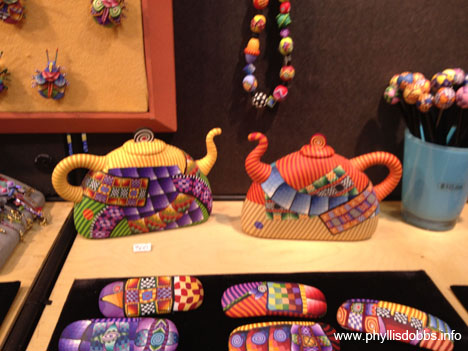 I showed you some of the new fabric collections by Quilting Treasures in my prior post. Below are more of their fabrics that debuted at market. Simon-Kabuki has a new line out, In the Meadow, in these great, warm colors. I also love the design and applique flowers in this quilt using their fabrics.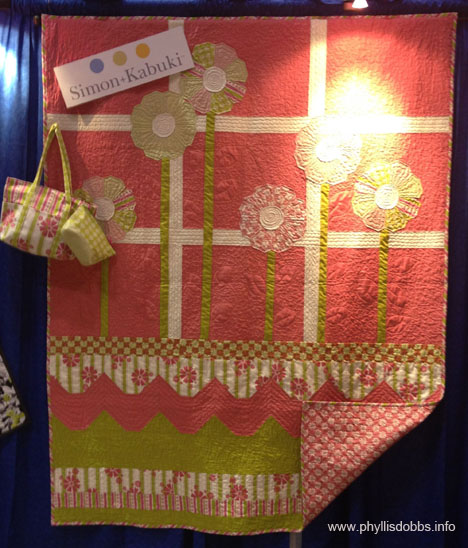 And I also loved this new collection by Studio 8, Fantasia (click to see the individual fabrics) and especially love the color combination of black and white with a lime green.  (See my prior post for free quilt and apron patterns I designed for Quilting Treasures with Studio 8's Monaco fabric collection).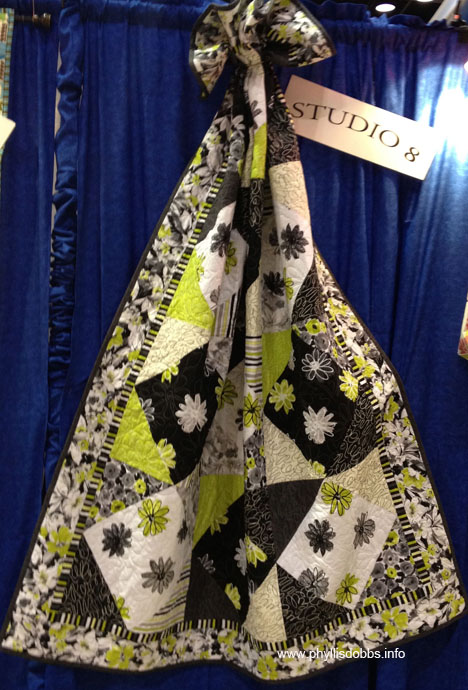 I love the play The Phantom of the Opera and this new fabric collection is wonderful. Can't you hear the music?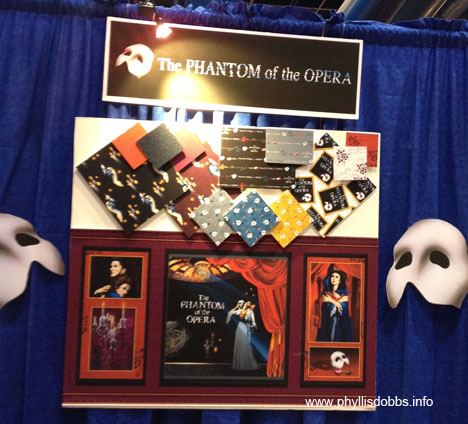 Angela Anderson's Give Thanks, can be used to create a beautiful quilt or kitchen accessories such as a table runner or place mats next fall.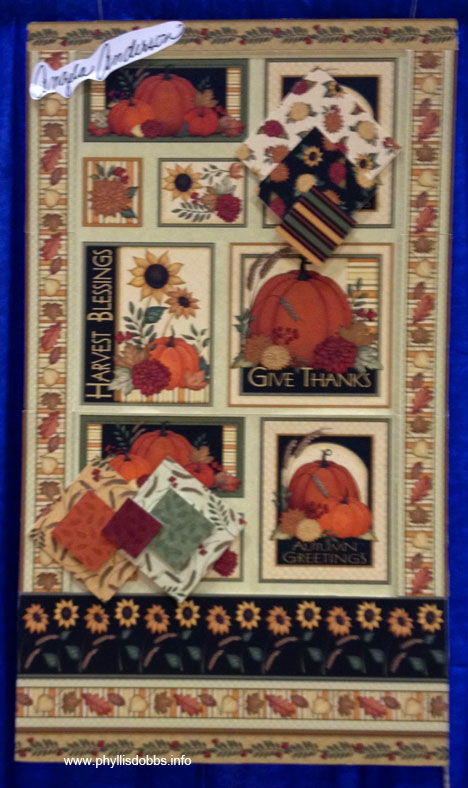 With quilting and sewing, you need trim. Expo International has all kinds of trim for your every need including home decor. I love the colorful displays of these trims and cords. The center row is button trims, which is fabulous since we all love buttons! I look at this and remember several years ago when I shopped trim, all I could find was dull colors. Its so much more fun sewing with these colors!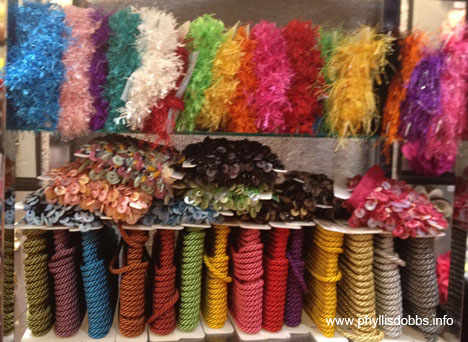 And, there's these fun feather trims…..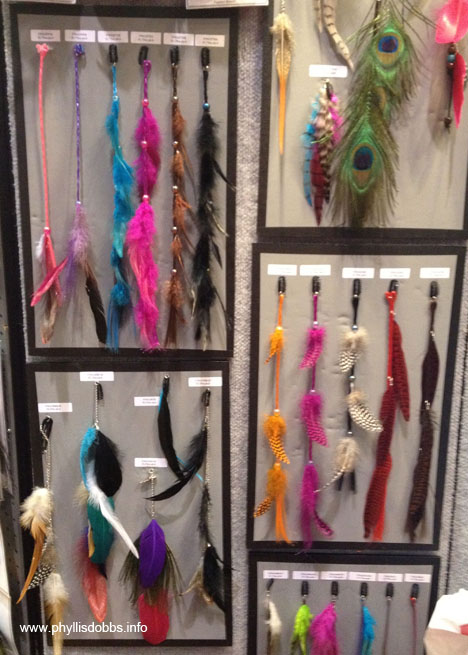 Quilt Market occurred over Halloween so I thought I would also show you Expo's cute sequin appliques for Halloween.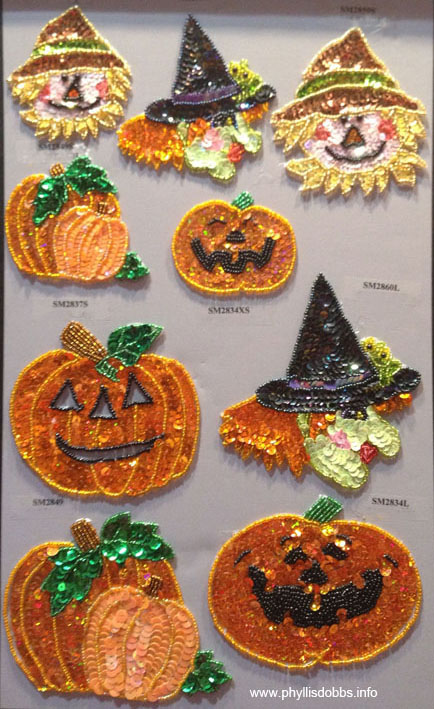 And the Expo International folks dressed up for Halloween. Debi Schmitz dressed as a witch, but I have to tell you that she's a sweet  and lovely witch, not at all wicked! I need to find where she got the silver hair.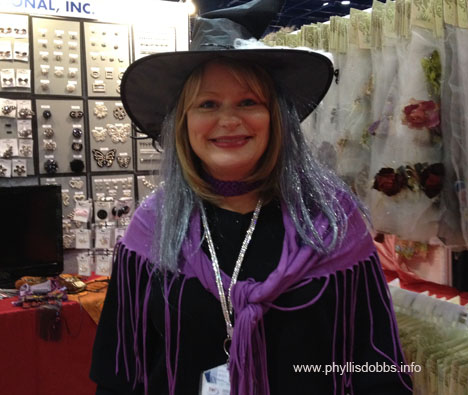 Walking by Michael Miller Fabric's booth created a "wow" moment when I spotted this 1950 red MG convertible used in their vintage picnic display. I also like the turquoise cooler. I've always thought MG's were the coolest cars. By the way, this MG was local from Houston and is for sale. It doesn't run though, but it has a great body and I would just love to have it to look at and sit in (and watch Audrey Hepburn in Two for the Road although her MG was green). Pretend driving would be ok as I would not want to risk getting any kind of ding in it.
I thought the Sandi Henderson booth (Michael Miller Fabrics) was beautiful and great merchandizing.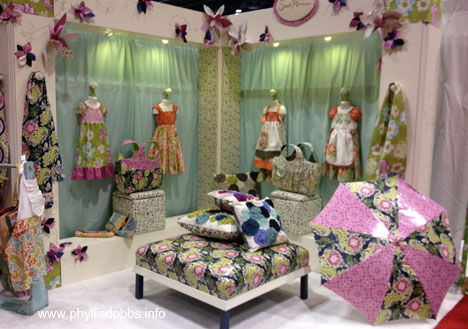 The Kaleidoscope Kreator Software booth was beautiful and dramatic with kaldeiscope designs. This software lets you use your own photos and artwork to create kaleidoscope images for quilting, scrapbooking, card making and more. I've been eyeing this software and plan to purchase it. Actually, I don't know why I haven't already done so, except that when I get home, I get caught up with ongoing work. The software looks easy to use from their booth demo (and the price is great). If you go to their website, check out the paper crafting projects. The quilts are beautiful of course, but the paper stars would be really fun to make.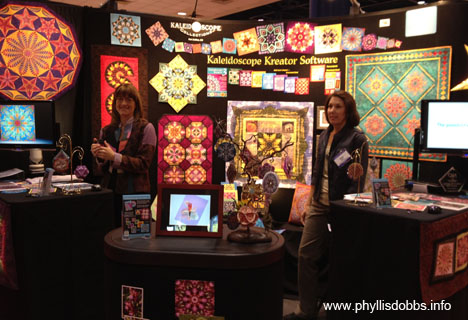 I stopped in Clothworks booth to see my friend Sue Zipkins new fabric collection, Suzette. I love the soft colors of the fabrics.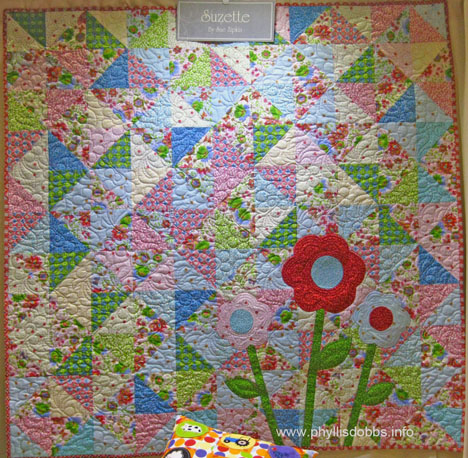 June Tailor, Inc always has a pretty booth. They have great quilting tools (I use them regularly)!  They have a new program for fleece, Fleece with Flair. The program includes tools for working with fleece, including fringe cutters and various rulers as well as fleece precut flowers. The right half of the booth below shows the new tools and samples made using the tools.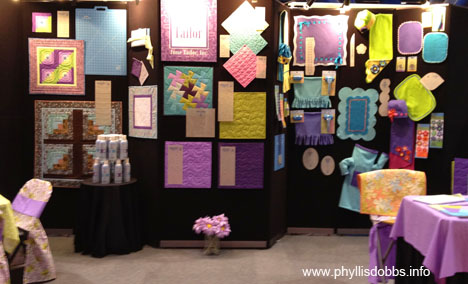 A closeup of the fleece  flowers….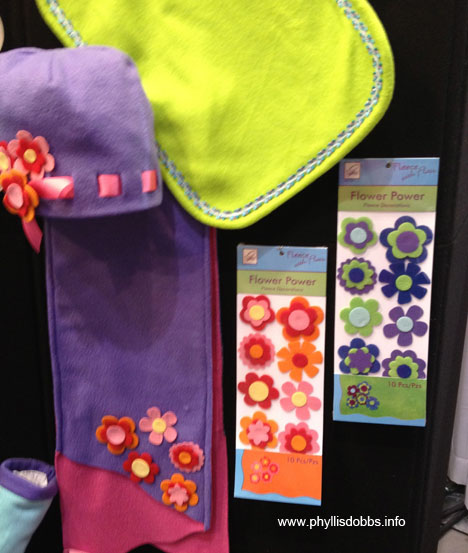 Tina Givens (Free Spirit Fabrics) won the booth award for best Merchandising.  As you can see from the photos below, it was a beautiful booth in oranges, tans and browns.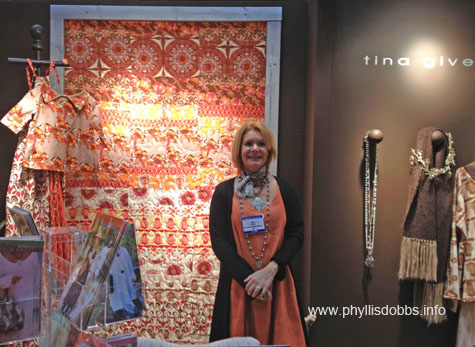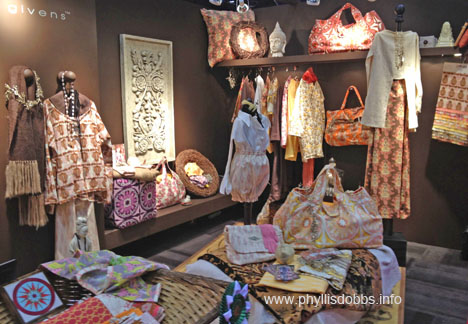 I love felt and stopped by Kunin Group's booth. They have felt in patterns now which makes a wonderful addition to all the solid colors. The patterns below were gorgeous. Kunin's felt is made from eco-fil which is created with platic water bottles. The felt is so soft, its hard to imagine that it started life as a water bottle.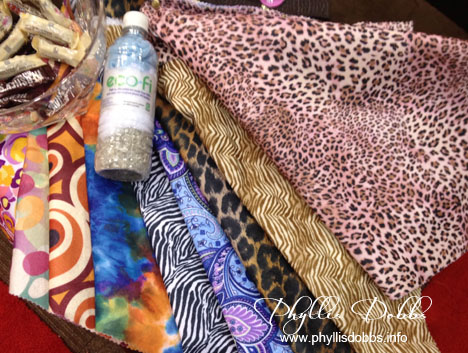 You can create such cute critters with felt.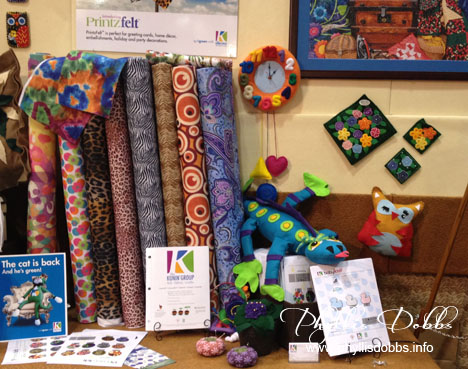 Prym has a new line of sewing products for baby along with a book of patterns for making baby clothing and cloth diapers. In addition, as you can see on the wall to the right below, they have a full line of accessory products and trims, buttons and applique to use with sewing for baby. Really, really cute!!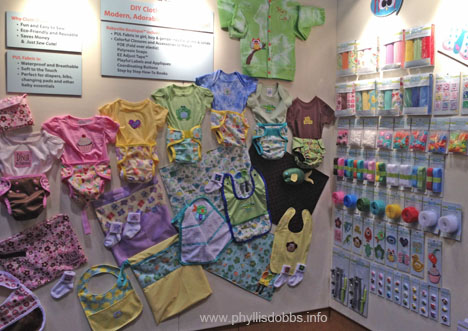 La Todera had a pretty and colorful booth to showcase their sewing and soft craft patterns. The buttons and flowers below are just a few of their patterns. And the buttons can be customized with your own saying or art. and aren't these trees adorable for sewing!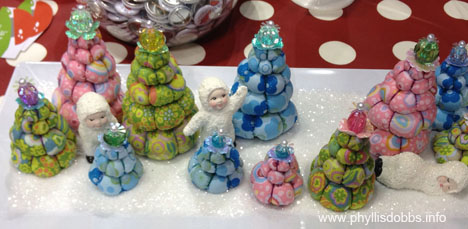 Downtown Houston has changed over the years since I first started attending Quilt Market. Below is a view from my hotel (Hilton) showing the George Brown convention center on the right (designed to resemble a ship) and the Minute Maid Park (aqua building) in the distance, home of the Astros. Discovery Green Park is just a few years old and is a great improvement on the parking lots that were there previously. Its nice to walk through the park for a few outside minutes during the show.
I hope you enjoyed my take on Quilt Market. But there's more to come – pictures of beautiful, unbelievable quilts from the quilt exhibits. The quilts are works of art!  So please check back!
Phyllis