Its so exciting that my new quilt book Asymmetrical Quilts from Leisure Arts has been published and is ready for shipping. Instructions and patterns for 9 quilts are included in this book, all with an off-centered design. I created each quilt to be unique and all are made with wonderful fabrics. The designs use a combination of traditional and nontraditional blocks in nontraditional arrangements, with several of the quilts adorned with whimsy applique.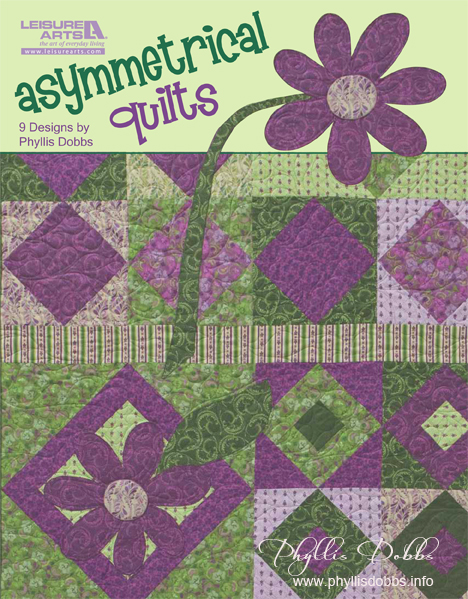 My copies are on the way to me and I can't wait to get them. It was a lot of work putting this book together, but I enjoyed every second of it. The photographs were all taken in the wonderful studio of Becky Stayner.  I will be showing some of the photos I took of the photography sessions so check back to see these and her studio (hint – its in a really quaint house).
I owe a special thanks also to Lisa Mullins of  Wandering Stitches Quilting Studio for an amazing job in quilting the quilts. She added the touch of whimsy where needed to keep the theme of each quilt.
I hope you will check out the book and find that you can't live without it!
Phyllis