Its been fun designing and sewing with my new Celebrate fabrics from Quilting Treasures.  I have created this free sewing and quilt pattern (quilting optional) that you can use for sewing a Happy Birthday banner. The banner is 25″ x 35 1/2″ and can be hung on a wall, in a doorway or for a multitude of other uses.  Use it year after year for birthday celebrations. The colors of my Celebrate fabrics are bright and cheerful to add to the festivity and use birthday cakes and cupcakes for design motifs.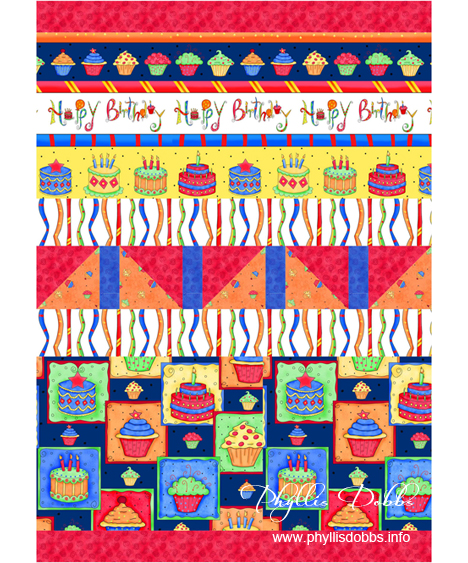 Click away to the download page for the quilt birthday banner free pattern.
The fabrics are available through independent quilt shop and stores. While the weather is so hot, its perfect for staying inside and working on new sewing or quilt projects. Other free quilt and sewing patterns created for the Celebrate fabric collection can be found on Quilting Treasures website for download.
Stay cool and keep sewing and quilting!
Phyllis