I promised to show some of the spectacular quilts on exhibit at the Houston International Quilt Market in the first part of my Houston Quilt Market blog post. These are just some of the amazing quilts exhibited. I'm always awed at the beauty of the quilts and the talent involved to create them.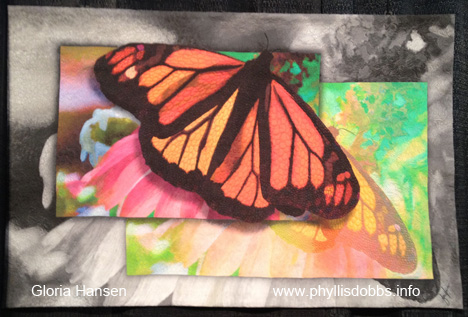 Monarch: About to Fly by Gloria Hansen of East Windsor, NJ. This quilt is a digital painting based on a photograph of a Monarch that she took before it flew away. The techniques are digital painting, machine piecing and quilting.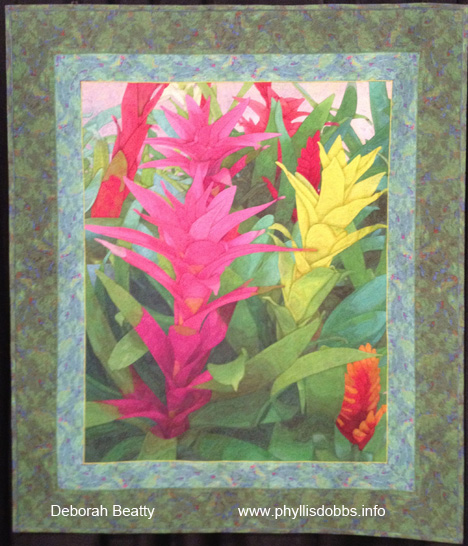 Etherium Botanica Bromeliads – by Deborah Beatty of San Jose, CA. This quilt is based on her photography. The technique is digital painting, machine and hand piecing, machine quilting, and hand painting.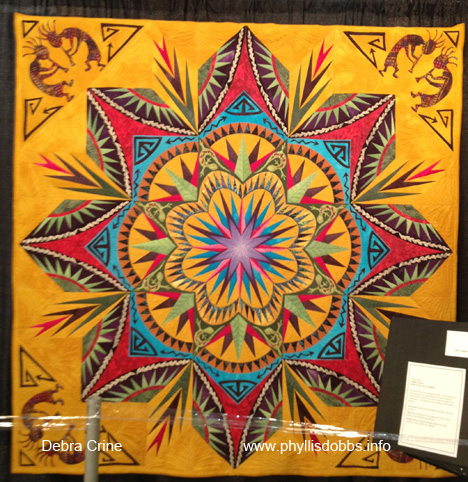 Desert Daze – by Debra Crine of Marco Island, FL. This quilt was inspired by beautiful colors and landscapes of the southwest, with southwestern motifs added after the design was complete. The techniques used were paper piecing, fusible applique and machine quilting.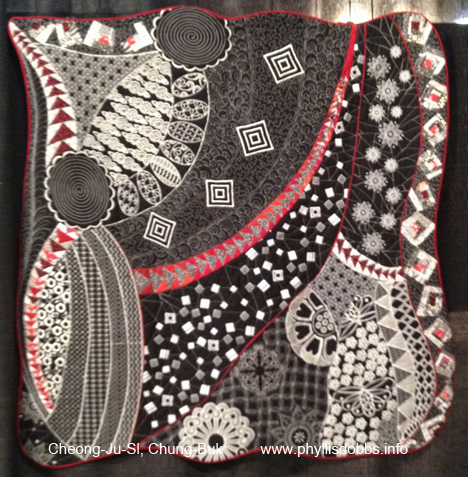 In My Mind – by Eun-Suk Lee, Cheong-Ju-Si, Chung-Buk, of the Republic of Korea. This quilt was created to show a red line of hope leading to the clarity that traditional Korean patterns have a place in modern quilting and to be a Korean artist in a Western art form.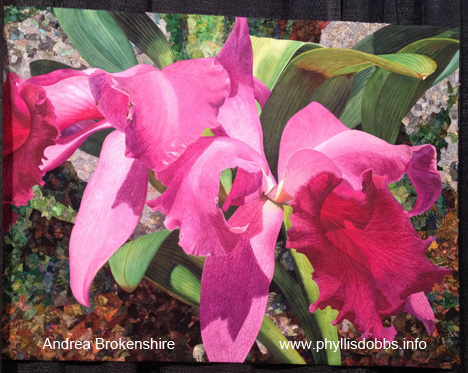 Heidi's Schlowers – by Andrea Brokenshire of Round Rock, TX. This quilt was inspired by the beautiful Cattleya Orchid and a child trip with her sister to Disneyland. The techniques were hand painted silk applique fused on a pieced batik confetti background, machine quilted and thread painted.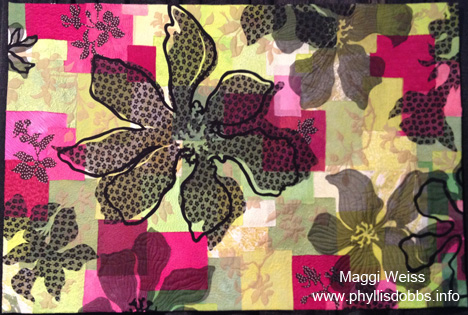 Apple Blossom Dance – by Maggie Weiss of Evanston, IL. Powdery spring blossoms inspired this quilt. The techniques were torn fabric, applique and machine quilting.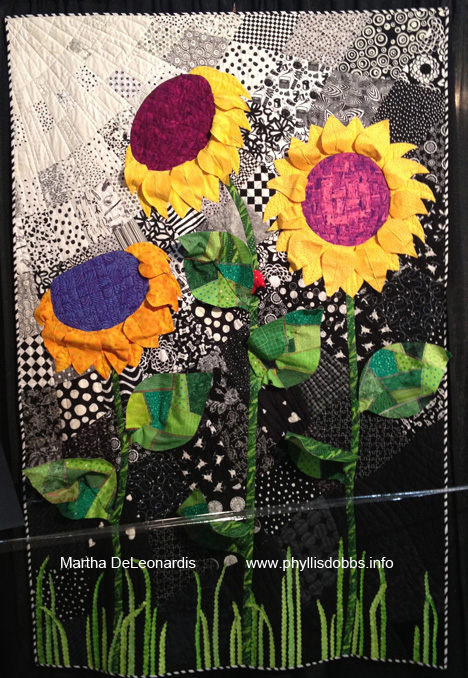 3-D Sunflowers – by Martha DeLeonardis. Design source – a vintage sunflower block quilt. The techniques used were turned edge woven fabric, machine pieced, applique and quilted.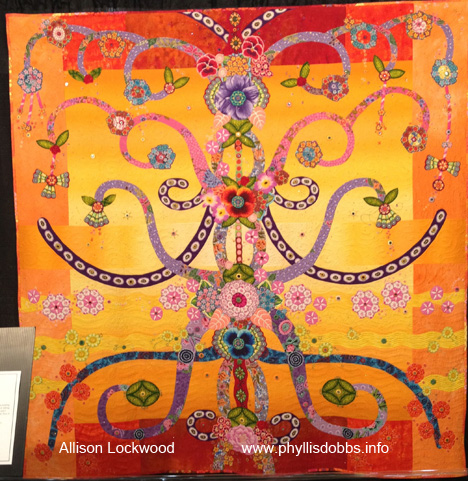 Tree of Life – by Allison Lockwood of Shell Beach, CA. This quilt was inspired by the Tree of Life that is an important symbol in nearly every culture and a trip to Thailand. Techniques are hand appliqued, hand quilted, embellishments applied by hand.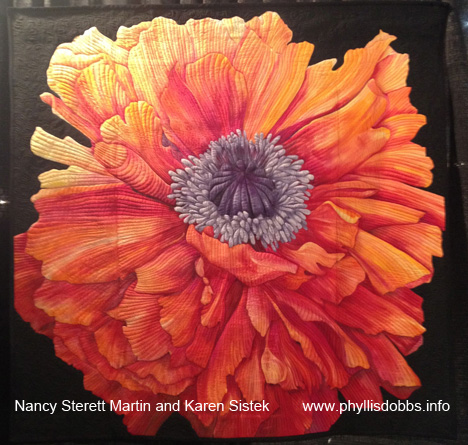 Synergy – by Nancy Sterett Martin and Karen Sistek of Owensboro, Ky. They were inspired by a photograph of a close-up of a poppy in creating this quilt. The techniques are hand painting on silk and machine quilting.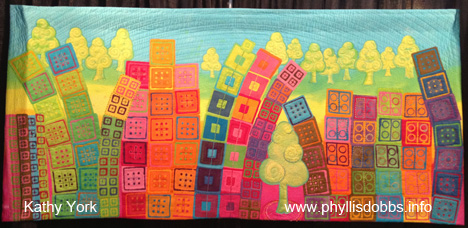 Tree – by Kathy York of Austin, TX. This quilt was inspired by the thought that if buildings could dance, they would upon the sight of such a lovely tree. The techniques were fusible applique, machine and hand quilting, and hand embroidery.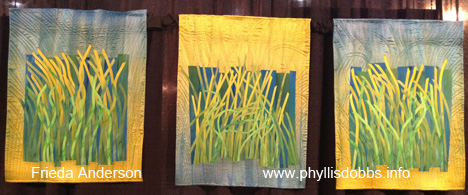 Prairie Grass – by Frieda Anderson of Elgin, IL. This triptych was inspired by the mid-west fields and prairies of Frieda's hometown area and swaying in the wind on a spring day. The techniques used were fused collage and machine quilting.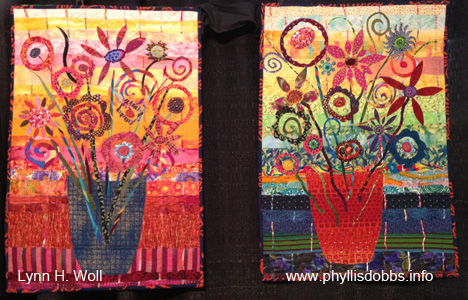 Flowers for Me Diptych – by Lynn H. Woll of Tacoma, WA. This quilt was inspired by a bouquet of flowers that Lynn bought for herself when she was feeling down. The techniques used were raw edge applique and embellishment.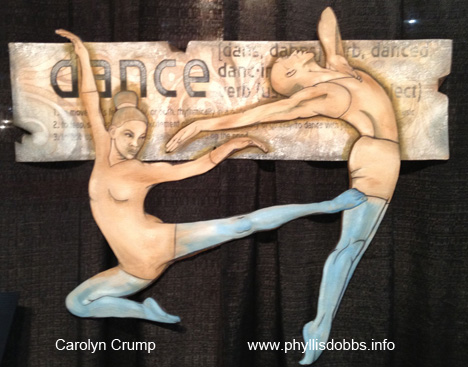 Mae's Dance – by Carolyn Crump of Houston TX.  Mae Jones, a quilter from Florida, passed away a year ago. Her family gave Carolyn Mae's sewing machine, fabrics and quilting tools. Carolyn used the machine to make this quilt and named if for Mae. The dancers symbolized the power of needle and thread. The technique used was machine quilting.
As you can see, there were some spectacular quilts on exhibit. There were many more that I did not get pictures of due to time constraints. I hope you enjoyed seeing these few.
Phyllis