A patriotic quilt is a wonderful way to show your love of our country. I designed this "Patriotism – Red, White & Blue" quilt so that you can sew it for every day use of for our patriotic holidays of July 4, Memorial Day and Veterans Day.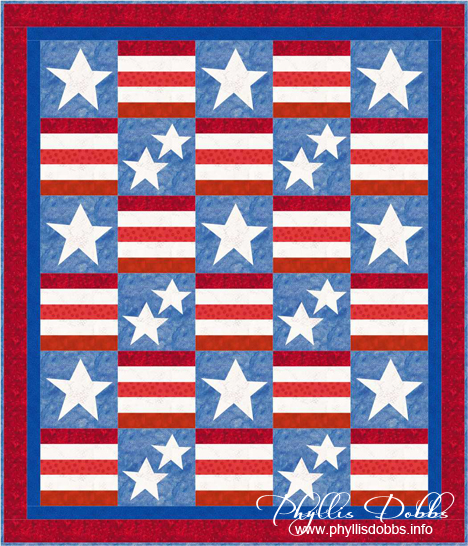 This pattern will be free by joining the Quilt Dash during the 2 weeks June 14 – June 28, 2013.  You will dash through online stores to get the the instructions and patterns for this quilt.  Its also free to join the Quilt Dash and you will also find great sales in the online stores as well as products you need for your stash. In addition, you will be entered into a drawing for a prize from each shop.
Shops, its not too late for you to sign up to be a part of the Quilt Dash and have quilters Dash through your online stores.
"Patriotism – Red, White & Blue is 59 1/2″ wide x 69 1/2″ high. The blocks can be adjusted to make the quilt larger or smaller or to use for table runners and placemats.  I used different red fabrics for the stripes to make it look a little scrappy.  You can make it more scrappy by using different blue fabrics for the star block backgrounds.  Its always fun to see how quilters can take a pattern and make it their own with their  fabric choices, making each quilt look so different from the other.  That's just the nature of quilting though and what makes it such a great artisan craft!!
I hope you will join the Quilt Dash to get this pattern and I would love to see what  you make!
Phyllis