I love color and this quilt pattern gives lots of it, which is why I named it "Splash of Color". This pattern was designed the Quilt Dash and is now available from the WhimsyColor Shop.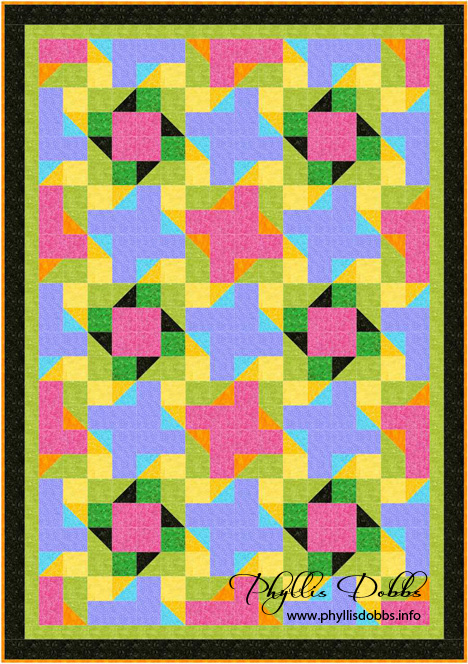 This pattern is easier than it looks and you can customize it with your own favorite colors. The finished quilt size is 56 1/2″ W x 80 1/2″ H. Its easy to customize for a smaller or larger quilt by doing it in 4 block increments so that you can have a small wall hanging quilt or a full bed sized quilt. The quilt is made with 24 identical blocks. You can also use your scraps to make this a scrappy quilt. Oh, the possibilities! And I know that each quilt made with this pattern will be uniquely your own, with each quilt having a different look and emphasis from this pattern.
The Quilt Dash starts on August 15 and goes on for 2 weeks, during which time you can receive this pattern free.  You can enter at any time during the 2 weeks and its also free to participate in the Quilt Dash. You can find some great sales and other products in the quilt stores that you visit. In addition, you will be entered into a drawing for a prize from each shop.
Shops, you can still sign up to participate to get new quilters and fabric lovers to Dash through your online stores.
I hope you will join us in the Quilt Dash for this  "Splash of Color" quilt pattern. I would love to see the quilt that you make from it.
This pattern is now available in my Craftsy store.
Happy Dashing!
Phyllis