A lot of you already know that the Pantone Color of the Year is Radiant Orchid 18-3224. I love this color – its such a beautiful shade and can go with so many other colors including the monochromatic colors that go with it. When I was in Atlanta for the Atlanta Gift Market, I saw this beautiful Color of the Year display in the Loloi Rug showroom.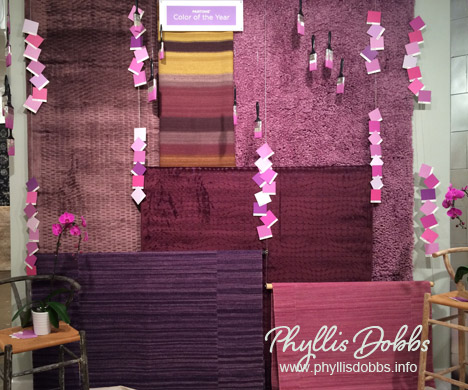 As you can see, there are so many beautiful colors in the monochromatic color scheme that can be used in your quilting, art and design that can be used alone, in combination with other shades or with complimentery colors. I love the bluish tint to this color. This display emphazied paint with the paint brushes (top left edge of the photo) and paint chips combined with rugs that go with these colors to give you an idea of all the possibilities of Radiant Orchid. (And I have to add that Loloi has the most beautiful rugs!)
You can see prior Color of the Year selections on the Pantone page by scrolling down.
Have a colorful day!
Phyllis