How time flies!  It's hard to believe that its been a month since I attended Quiltcon in Savannah, the annual conference for the Modern Quilt Guild. It's an amazing event – a beautiful quilt exhibit, vendors with irresistible merchandise, and fabulous classes. There is a lecture series that lasts all day each day with really talented speakers. In addition to all of this, there are demonstrations going on with other speakers. There is not a minute to spare while at Quiltcon but it's so much fun. This is the 2nd year that I attended with my talented friend, Robin Pickens. We both walked around like school kids with our eyes taking in every bit of color and knowledge we could soak up.
Between lectures, we visited the vendors and shopped. I bought some of the most gorgeous fabrics while there.  I love fabric and couldn't resist.  Here is a sampling of my fabric purchases.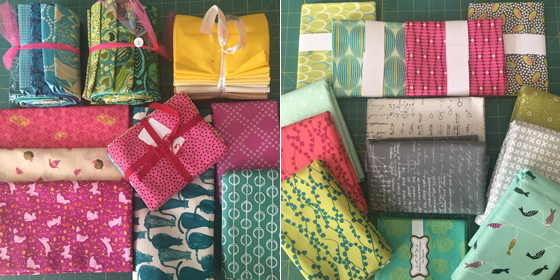 In addition, I bought these heavier weight gorgeous fabrics for embroidery. The hoop is a new design that has a spring going around the edge to hold the fabric in place so that the small screw isn't needed. The hoop came from French General.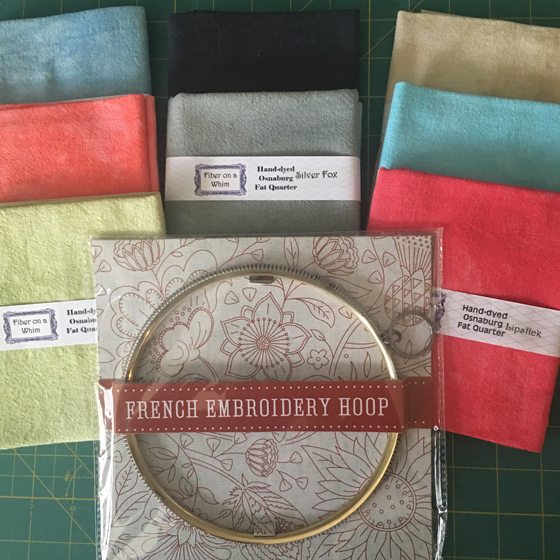 Here are a sampling of the many fabulous quilts that were on display from the challenges.  The one below, Lead the Way,  is by Juli Smith of San Diego and was entered in the category of Use of Negative Space. The technique used was machine piecing. Juli loves geometry and wanted to explore things on the diagonal.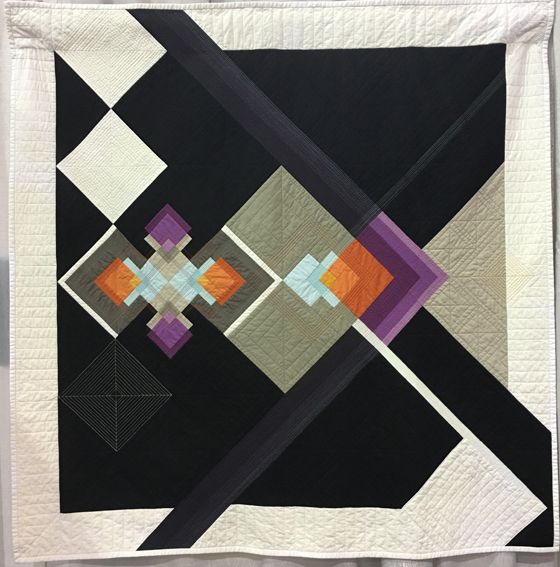 This quilt, Bling, by Katherine Jones of Chigwell, Tasmania, Australia, was amazing and won Best in Show. The technique used was paper piercing. The design was inspired by a princess cut diamond.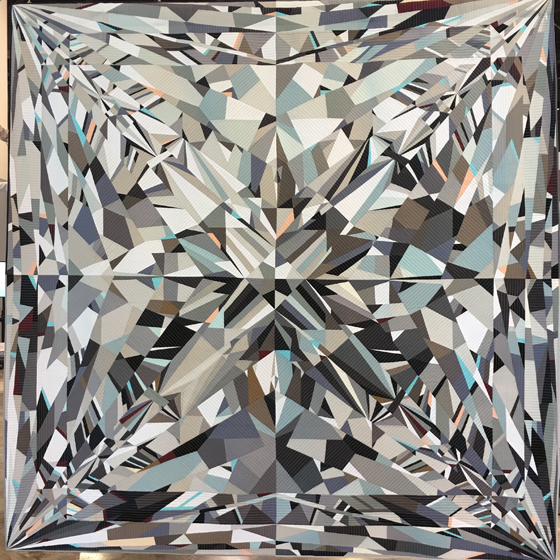 Lincoln by Kim Soper of Huntington NY, won first place for Improvisation quilting. At the end of the show, it had been voted People's Choice Award. The quilt was developed out of a desire to create an entirely improv-pieced, recognizable image without use of template, paper-piecing or appliqué.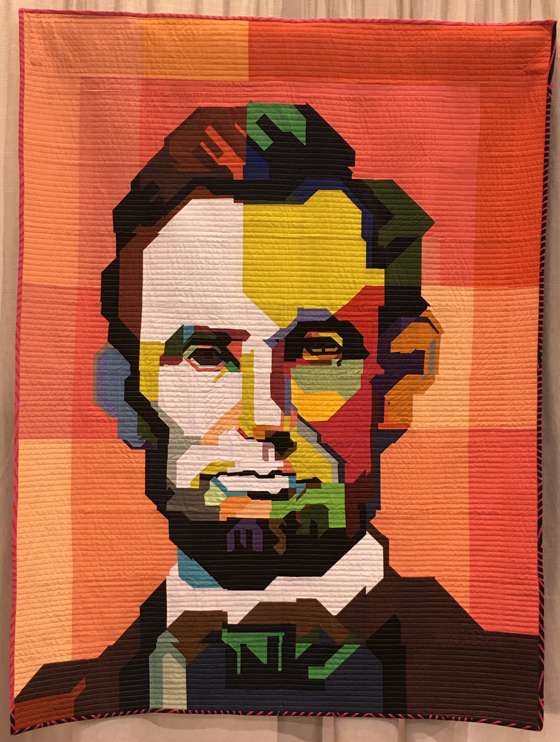 Not Easy Being Green, by Mary Keasler of Chattanooga, TN, won Best Machine Quilting, Frameless. Mary began the quilt by making small 4 patch blocks with left over hand dyed fabrics then decided to add strips in a log cabin effect.  Then she added white for negative space for a really stunning design.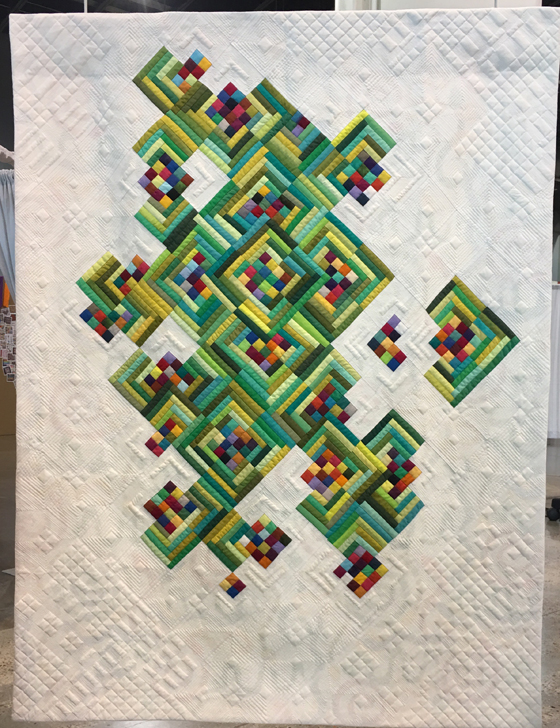 Diamond in the Rough, by Christa Watson of Las Vegas, loves creating quilts in black and white with a pop of color. Her quilting with matching threads emphasizes the geometric design of the quilt.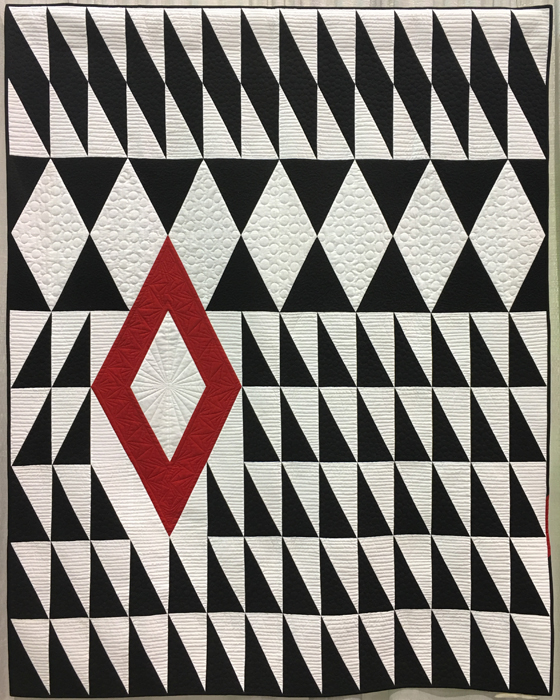 Shibori, by Amy Friend of West Newbury, MA, was designed using a technique that she calls improvisational paper piecing. The design was inspired by he veins of a leaf, sketched improvisational. She created a paper pieced template and used the original block and its mirror image to create the layout. To me, this quilt looks very Art Nouveau.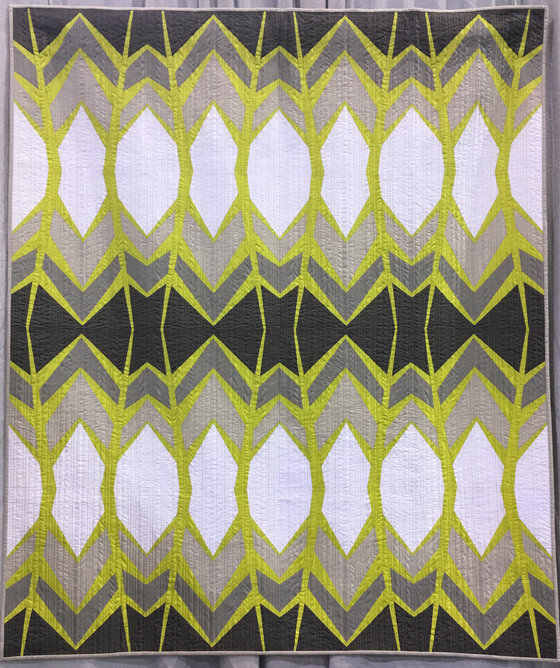 These were just a small sampling of all the wonderful quilts exhibited. Modern quilting allows for so many variations in quilting to make each one different and unique. And one of the main themes of modern quilting is that there are no rules.
And, for one more of my purchases at Quiltcon, I bought a Juki sewing machine, a workhorse for quilting and sewing. I like it because it does free motion quilting so well and is so simple and easy to use. My friend Robin and I both bought one and I am so happy to add it to my studio!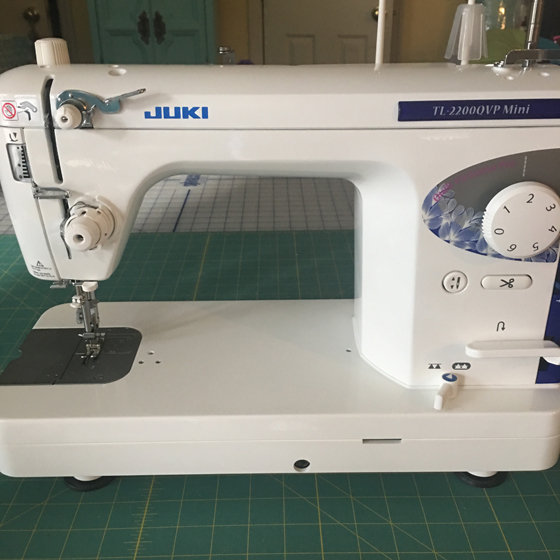 Next year, Quiltcon will move back to the west coast to Pasadena and I can't wait to attend again.
Happy Quilting! Do it your way!
Phyllis