With the heat and high humidity this summer, I have been staying inside and working on new fabric patterns as well as quilt patterns. This is the best way to stay cool, in my opinion and much more fun!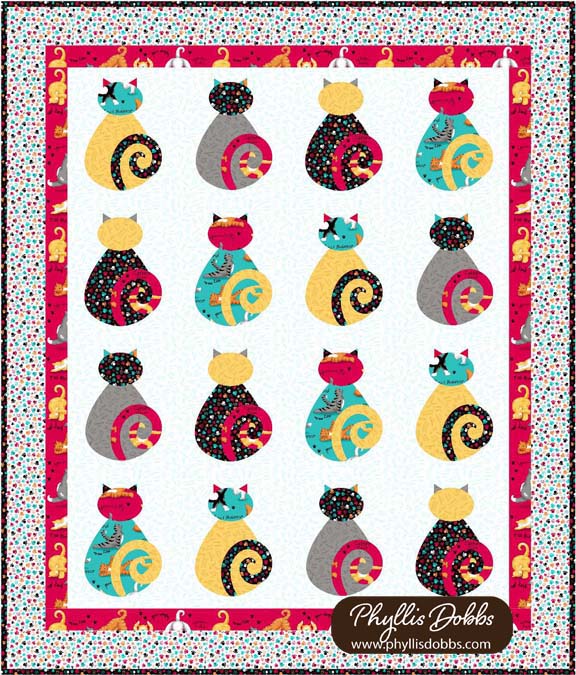 I love cats and want to show you my latest quilt pattern, Kitty Cat Gallery. The quilt is 51 1/2″ wide x 59 1/2″ high and is made with 16 blocks of appliqué cats. This multicolor quilt can utilize your scraps or precut fabrics. This pattern is available in both my Craftsy and Etsy shops. This quilt is also available in a smaller size, 36″ x 42″ as a whole cloth quilt top in my new Spoonflower shop. (Dog lovers, I have a wholecloth quilt top coming soon with delightful dogs!)
I am excited to have opened a Spoonflower shop, PhyllisDobbs, with these fabrics, with more to come in a few days. Creating fun and colorful fabrics is at the top of my list of favorite things to do!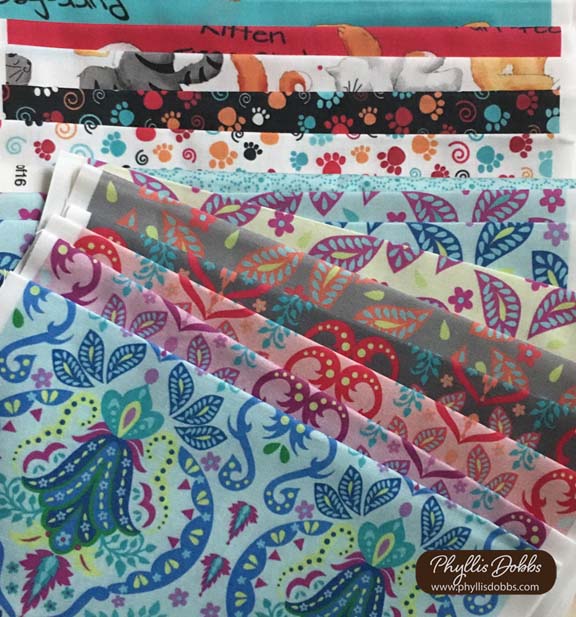 In my Spoonflower shop, I am also creating cut and sew aprons as well as wholecloth quilt tops. Both the aprons and quilt tops are easy to make and are great for a beginning quilter or sewer. They also make quick and fun gifts. I am sewing on my first aprons and quilt top to finish this weekend and will post them.
It's all about making fun things while staying cool! How are you staying cool? What are you creating?
Happy Sewing or Quilting!
Phyllis