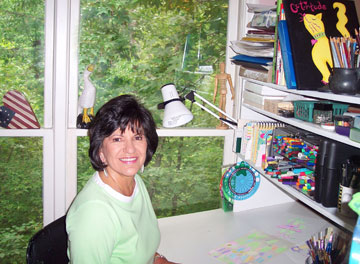 I really enjoy my work and career – working from my home studio creating art and designing fabrics and quilt and sewing patterns.  In addition to fabrics, my art is licensed for product design on gift, garden and home decor items. My designing is focused on quilts, sewing needlework.
I love color and have always loved fabric because of the designs and beautiful colors. I've been designing professionally for 26 years, but I really started designing unprofessionally when I was old enough to use scissors and start cutting up fabrics. My mother taught me to sew and my aunt taught me needlework. My grandmother was a quilter. I was so lucky to have a family so entrenched in all the various needle arts.
I have always loved to draw and took painting classes throughout my life. My love of art and the various needle arts goes hand in hand for a unity in all I do.
My career started with my drawings that I turned into needlework (embroidery and cross stitch). Each step led to new mediums and techniques, including quilt design and quilt books books, art and fabric design.
For one of the companies that I worked with, I designed textile products for worldwide sales. These products were for holiday and Christmas items such as tree skirts, stockings and decorative ribbons as well as everyday products of placemats and tablerunners and decorative gift bags.
I love to teach and have taught nationally at trade shows and workshops/lectures for shops and guilds.
My formal training began at the University of Alabama in Tuscaloosa, AL, where I obtained a B.S. degree in Interior Design.  My home studio is located in Birmingham, AL, where I live with my husband and my lucky black cat.
Please visit my website