The time is getting close for International Quilt Market and Festival, which is being held in Houston at the end of the month.  Quilt Market is for the trade only – shops and suppliers of quilt and sewing supplies.  Quilt Festival is for consumers and is a huge event for buying all types of sewing supplies, fabrics, and embellishments.  Both shows introduce the newest trends, tools and supplies.  Both shows are beautiful and a feast for the eyes with all the beautiful colors of quilts and fabrics.
Last year at Spring Quilt Market, I met a very talented lady who provides a wonderful service,  Billie Dickinson.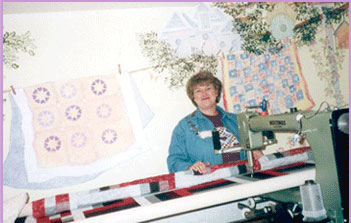 She is a quilter and does custom quilting for your quilt tops, whether its one that you have created or an antique quilt top.  She can also create the whole quilt. I saw some samples of her quilting and she is fabulous.  She does long arm quilting as well as hand quilting.  Her website, Billie's Stitching Post, also has a store for her favorite embroidery kits, floss, buttons and embellishments plus new items that you might not find in your local quilt shop.  So if you have some quilt tops you've put aside to have quilted, she's your lady!
I am busy working away on my next fabric collection for Quilting Treasures.  I am also working on quilt and sewing projects that will be displayed in some booths at Quilt Market.  Check back and I will give you a peek at what I have created.