Starting a new year off is exciting but it always seems like the first of the year is very hectic, in part due to a partial slow down in work due to holidays combined with preparation for the January shows. I've been working hard on new art for my agent to present at the Atlanta Gift Market held last week. In addition, I finished a book proposal for a new Quilt book that has been accepted and is on my agenda to complete in the next few months. Also on schedule this year are new fabric collections – I can't wait until I can show you these!
Getting to Atlanta this year was pretty much a nightmare for everyone due to the ice on the roads and airports closing and delaying flights.  I had to drive on very icy roads between Birmingham and Atlanta, and really scary roads in downtown Atlanta. But everyone made it in and the market was extremely busy with buyers – a great sign.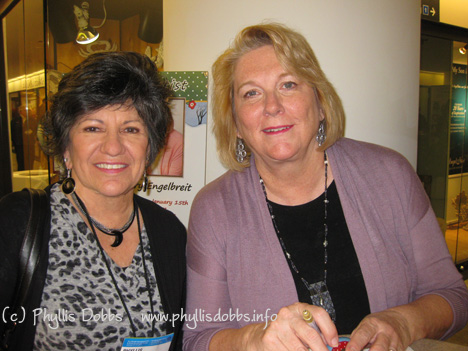 There were tons of artists signings during the show, including one by Mary Engelbreit. Here's a picture of us with her signing one of her beautiful ornaments by Ne 'Qwa Art. Mary's fabrics are with Cranston Printworks (VIP, VIP Exclusive, Quilting Treasures)  the same fabric company that my fabrics are with. I've been working with her fabrics designing quilts for free project sheets for the company website. I will let you know when the project sheets are published to the site. (Thanks Amy for taking the picture!)
You know what they say about all work and no play!  A bunch of artists met up after the end of a long day to socialize and network. Shown on the front row (L to R) Debbie Cole, myself, Robin Davis, and Aaron Christensen. Back row – Terri Conrad, Jane Maday, Karen Embry, Beth Logan, Tammy Browning-Smith, Sue Zipkin, Chad Barrett, Beth Yarbrough, Paula Joeling, Robin Pickens (behind Aaron), Lynn, Brenda Pinnick and Suzanne Whitaker. A very delightful and dynamic group!
Thanks Jane Maday for loaning me the photo since I left my camera in the room (dumb move on my part!). Also to Sue Zipkin for sending me a photo.
I am now back in my studio working away and excited about lots of new things on the horizon.
Stay warm!
Phyllis