Today, the 101010 Project question is answered by Shari Sherman.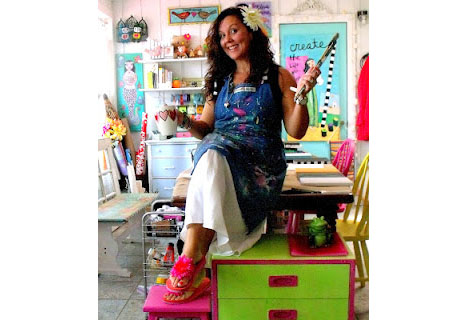 Business: Hula Dog Designs by Shari Sherman
Shari's Etsy store
Years in Business: Hula Dog Designs by Shari Sherman, was started in 2010.  Prior to that, I created art as Island Girl Studio, LLC since 2004.
A little about Shari: I  make Happy Art for Happy People!  I love that thrill of getting an idea and making it come to life.  I love bright colors (especially turquoise!), strong simple lines, and adding words of inspiration to my art.  I like mixed-media because it is limitless, but painting will always be my first love.  My subject matter frequently includes dogs, books, and anything related to the ocean/beach, because that is what I LOVE.  People often smile when they see my art, and I feel like I am doing my part in making the world a happier place!
The Question #8:  Who is that one person you would like to sit and talk with about your business?
Shari:
I would like to sit and talk with Oprah!  That would be a dream come true!  Hopefully, we would talk about how super successful I am and how I am part of a phenomenon of artists who are spilling their hearts, following their inklings, and changing the world for the better!
Shari's current projects: Shari is currently working on a book project called, The Inklings.
Below are the other artists and the questions they will be hosting. Please check them out! And I will be posting the answer by another artist on Monday.
Phyllis
Laure Otero – #1 – Is it necessary for your business to line up with your soul purpose?  What value is there to having that aligned?
Stephanie Guimond – #2 – Do you have a business mentor?  What value does that offer to your experiences as a business owner?
Shari Sherman – #3 – What animal would represent your first year of business.
Robin Norgren – #4 – What business/businesses have you chosen to model your business after?
Dani Keith – #5 – At this moment, what one idea do you need to start executing for your business?
Paula Joerling – #6 – What part of your business have you delegated or put on hold in order to focus your energy more efficiently?
Valerie Weller – #7 – How did you finally decide on the look of your brand?  What did the evolution look like?
Due to life's twists and turns, this session of the 101010 Project features 8 participants instead of 10.