Thanks to each of you who visited my blog, entered the Give Thanks Blog Hop Give-away, and signed up for my newsletter. I sincerely appreciate your visits!  It was fun to read your comments on what you sew or make for Christmas. You women (and maybe a man or two) really do a lot of sewing for gifts!!! And I know how lucky those are who receive these gifts!
I assigned each comment a number as well as assigning a number to those who signed up for my newsletter and put them in a tin for a drawing.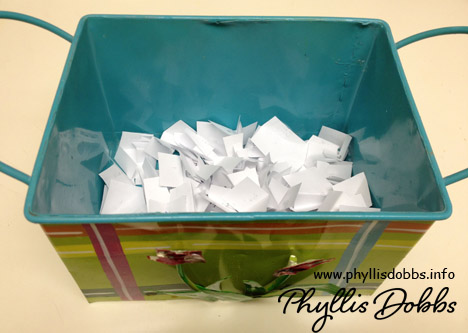 My husband did the honors of drawing and the winner is….
Kathy M Boice!
Congratulations Kathy!
Thanks to Michelle at Quilting Gallery for hosting this blog hop!
I wish you each a very safe and Happy Thanksgiving and hope that you are with some loved ones, whether family or friends.
Phyllis