Its spring and the bees are buzzing around all the fresh flowers. Enjoy bees even more with this free pattern for a small "Bee Yourself" quilt.  I designed it with my "Bee Yourself" fabric collection  for Quilting Treasures. There is a bee for everyone – which are you?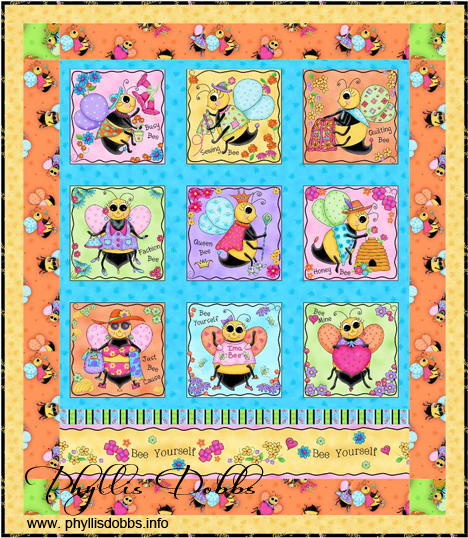 This quilt is a great size for a wall hanging, lap quilt or a child's quilt at 31 1/2″ W x 36 1/4″ H.  Its a great quilt that can be made quickly or by a beginner. The blocks in the center are a one-piece panel, so the sewing consists of adding strips and borders.
For this free pattern, its available in my Craftsy Vibrant Quilt store – free quilt pattern download.  You can also see all of the fabrics on my website.
If you would like to make a larger quilt, table runner or large tote bag made with the same fabric, please see my prior blog post with links to these free patterns. They are all available on the Quilting Treasures website.
Bee happy,
Phyllis