Quilts are so comforting, both with the cuddling factor and the warmth of their beauty. Rita Clarke made a special quilt for a friend's daughter who's dog Shug had died. Pets are so important to us and are a part of our families so the loss of a pet is heartbreaking. Rita designed and made this quilt in memory of Shug using the pink fabrics in the "Its a Dog's Life" fabric collection I designed a while back for Quilting Treasures.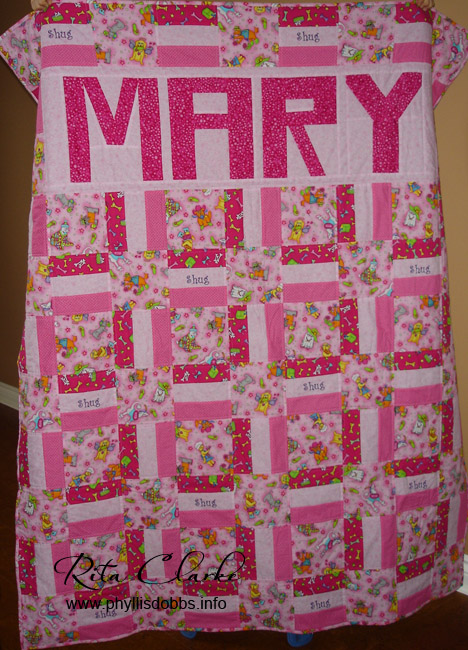 Rita also embroidered Shug's name in the sashing throughout the quilt. I'm sure that this quilt provides Mary a lot of  comfort and warm memories of Shug each time she cuddles with it.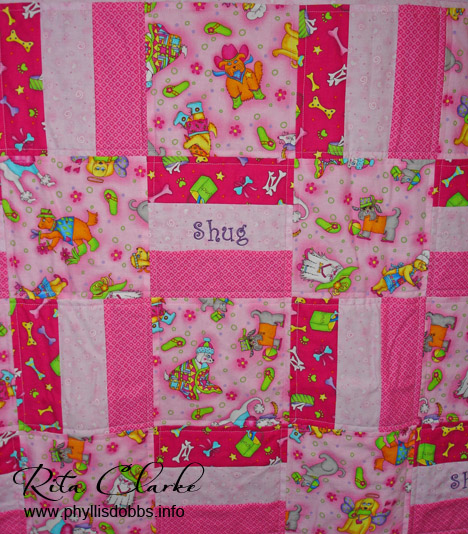 Rita does take orders to create personalized quilts through her business Sew Creative by Rita.
I love Rita's use of pink throughout the quilt. One of the things that amazes me with quilting is that you can get such different looks from the same fabrics, based on how you put the fabrics together and arrange the colors and the patterns of the fabrics. Other posts I have written feature a locker caddy and notebook, a dog coat, aprons, tote bag, and a quilt made with "Its's a Dog's Life" fabrics and each in different color combinations.
Thanks to Rita for showing me the pictures of the quilt she made! I think she's a wonderful friend to make this beautiful quilt for Mary.
Happy quilting!
Phyllis