One of the traditional and fun activities of Christmas is hanging the stockings to be filled by Santa. I have a collection of stockings that I have made over the years or received as gifts, all in a variety of techniques including sewing, quilting, applique, embellishment, embroidery, cross stitch and needlepoint.  With stockings on my mind, I designed this "Christmas Stockings" quilt pattern.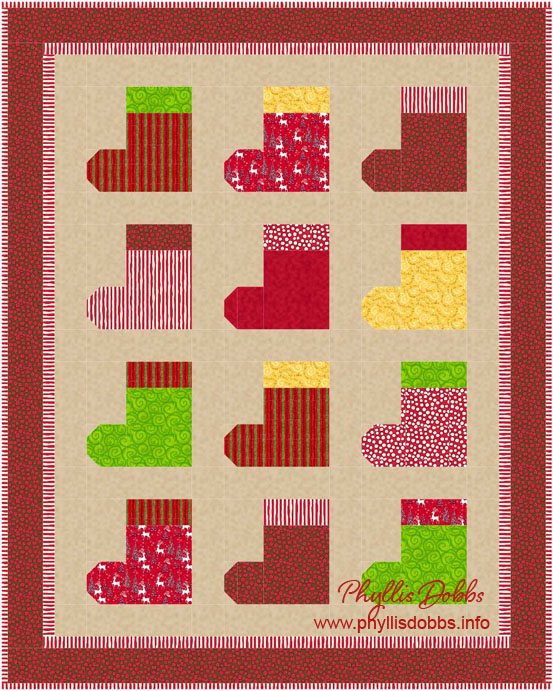 This quilt pattern was created for the Quilt Dash, a fun way to visit online quilt shops.  It starts Monday, December 15, 2014  and runs through December 28. This fun Christmas quilt pattern is available for purchase through Craftsy and Phyllis' Etsy WhimsyColor store.
This pieced patchwork quilt, sized 46 ¾" x 58″, with 12 blocks. It's easy to adjust if you want to make it larger or smaller.  I designed it to be a scrappy quilt so that you can use a multitude of fabrics or the scraps you  have on hand.  The fabrics shown in this pattern are all from Quilting Treasures.
I hope you join the Quilt Dash and use this pattern  to make your Christmas stockings by creating a heirloom quilt.
Merry Christmas and happy quilting!
Phyllis