My latest fabric collection, Purr-fect Balance with Quilting Treasures, featuring kitties in cute yoga poses, is now in fabric stores. I want to share some free quilt and sewing patterns that I designed with this collection, a quilt, tote bag, and a yoga mat bag.  You can view the fabrics in my prior post for Purr-fect Balance fabrics.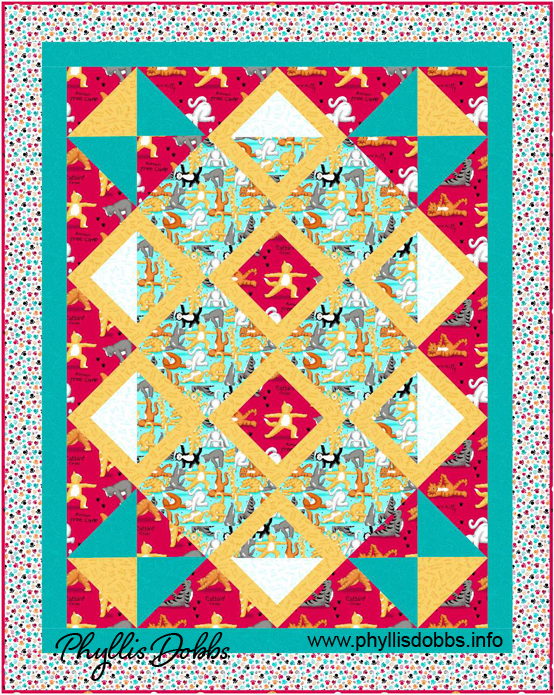 This quilt is 44″ x 55 ¼" in size, which is a good size for a throw quilt or wall hanging.  You can even lay it on the floor for your yoga workout. The skill level for the quilt is advanced beginner.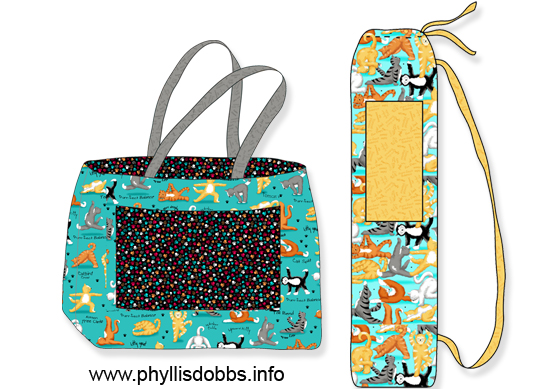 These bags are for a roomy tote to carry your yoga clothes or for shopping. The other bag is to hold your rolled up yoga mat. Maybe these fabrics can entice your cat to help you with yoga, although he or she will be trying to help the minute you get down on the floor.
I hope you have fun with these patterns and fabrics. I love cats, needless to say, (and dogs too), and designed the fabrics in happy and bright colors.
All patterns are available for free download from the Quilting Treasures website. Click on the link below the quilt and it will give you the links to the individual patterns.
Happy sewing and quilting,
Phyllis