Tuesday, October 11th, 2011
"A Friend is a Gift" is the basis of Mary Engelbreit's newest fabric collection for Quilting Treasures in their VIP Exclusive fabric line.  I designed this quilt and instructions for Quilting Treasures for a free quilt pattern download from their website. The quilt is designed around a central panel of "A Friend is a Gift to Give Yourself" tea party. Applique teapots are stitched in top and bottom borders to go with the tea party theme. The quilt size is 51″ x 57″, a perfect size for a wall hanging or to use for a throw with the cool weather arrives. (I'm down south, so the cool weather is not here yet.) To find this pattern, scroll down the selection of free quilt patterns. You may also be tempted to try some of the numerous other free patterns as there is large selection.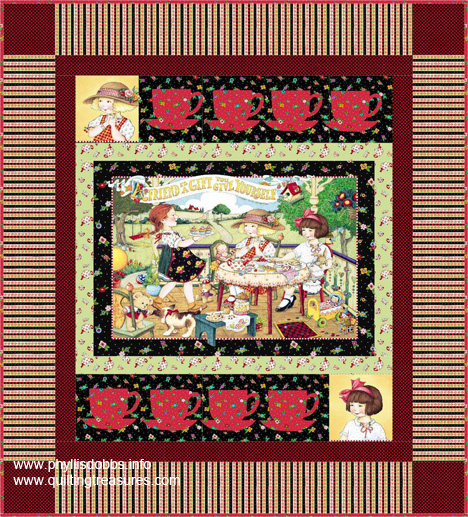 I designed another quilt pattern based on Mary's Sleeping Beauty fabrics that is also available for a free download from VIP Exclusive. Read about it in my prior blog post. With this great selection of patterns, you should be busy quilting!
Phyllis