December is always such a busy and fun month to enjoy the holiday festivities. I enjoy visits with family and friends throughout the month, the rush of holiday activities, and the Christmas decorations everywhere.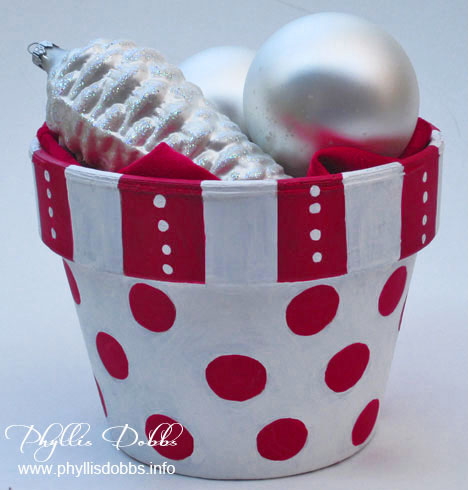 I haven't had a chance to put my tree up yet but it will go up by the weekend. Meanwhile I do have a few decorations out. This pot containing white ornaments is a terra-cotta flower pot that I painted red and white. While I only use it at Christmas, the red color can double up for Valentine to hold goodies for the kids or a kid's party. It's very easy to make with a clean flower pot and red and white paints.
With cold weather, its fun to sew or quilt while staying warm inside. This Christmas Wrap Apron is very easy to make in a couple of hours and will dress up your holiday cooking. The pattern is available on Craftsy.com and on Etsy as a download.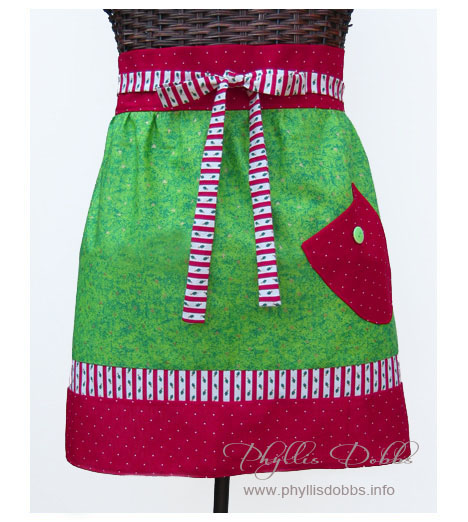 I have designed several Christmas quilt patterns which are also available on Craftsy and Etsy. There's still plenty of time to sew a fun quilt for a Christmas gift, to decorate with or just to snuggle under. This stocking quilt is fun for kids and is created by piecing. You can use your scraps or pre-cuts for this the stocking pieces.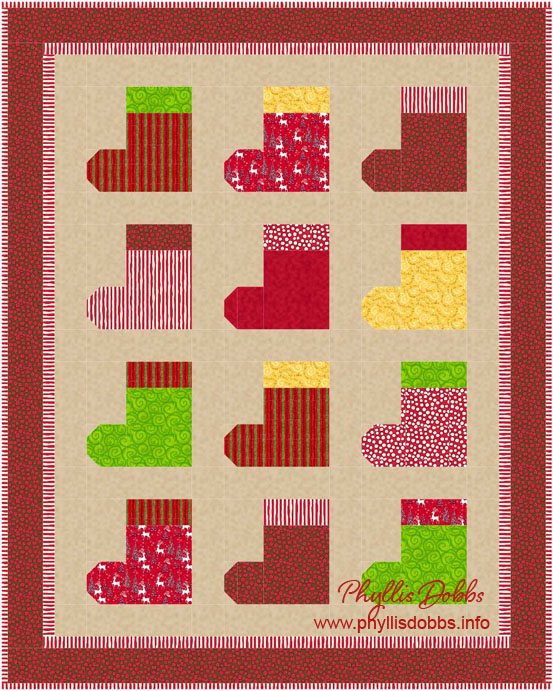 You will enjoy this Christmas Holly quilt for many years. This pattern is very versatile and can be made as shown below, or by making only the center wreath section for a smaller quilt or table topper. This quilt uses the techniques of appliqué and piecing. The holly pieces can be made from your green scraps or pre-cuts.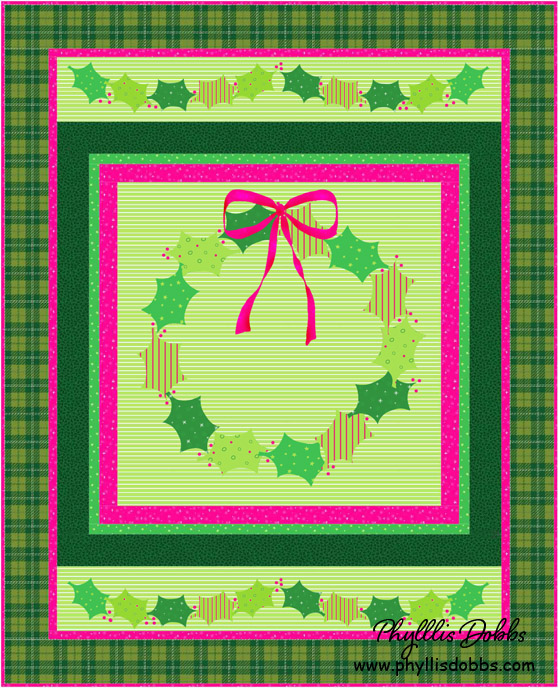 This Christmas Tree and Bow quilt pattern is dimension made with "petals" that are sewn to the quilt and drop down loosely to give the feeling of a tree. The bows in the border are appliquéd, and the bow at the top of the tree is made of ribbon that is stitched on.
I hope that December is filled with joy for each of you and that you are surrounded by the people you love. And that you get in a little Christmas sewing and quilting!
Phyllis