I have been trying to catch up all week from a whirlwind trip to Atlanta for the Gift Market.  I always return home tired but inspired – tired from the constant walking because the market is so huge and inspired from meetings, visiting with friends and the excitement that just comes from market.
It was encouraging to see that the buyers there were buying, although more cautiously. A lot of the showrooms were really busy, especially for gifts over home decor items.  Also, lower price items were selling better than the really high price items.
I had some great meetings with discussions on new products using my art to debut at the January show.  Meanwhile I was thrilled to see some of my new products that I have been working on the past few months.   Most of the products were still in sample form, but here is one, a "Chick Power" garden flag for Evergreen that is available in 2 sizes.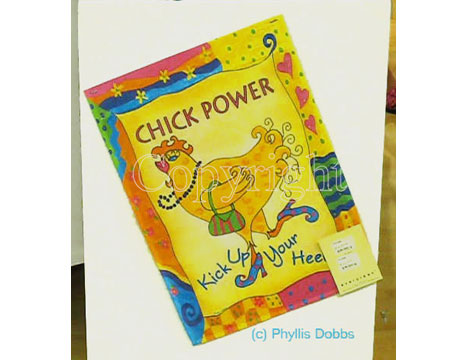 I can't wait to show you my other products but will have to wait until they are completely finished and in catalogs.
Is always fun to catch up with friends, plus make some new ones.  I had a fun evening with a dinner with several friends at Azio's (one of my favorite restaurants in Atlanta). From left to right – yours truly – me, Joyce Shelton, Barbara Barnett, Brenda Pinnick, BJ Lantz, and Carol Eldridge.  I guess you can figure out what happens when 6 women get together – lot of talk and more talk, and most important – lots of laughing.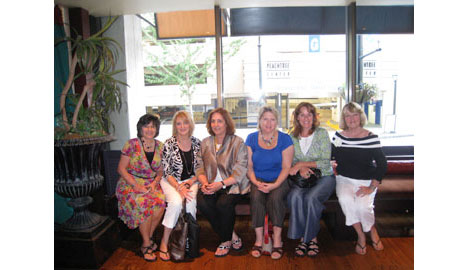 I wish you each a fabulous weekend.
Phyllis