As I walk the International Quilt Market, I am always in heaven seeing all the beautiful colors of fabrics and quilts displayed throughout the whole show.  Another thing that I really enjoy about the show is catching up with friends, which I did last month at the Spring Quilt Market in Portland.
I think all of my friends are interesting and unique.  I remembered to take out the camera a few times, but not often enough, to capture some of these moments.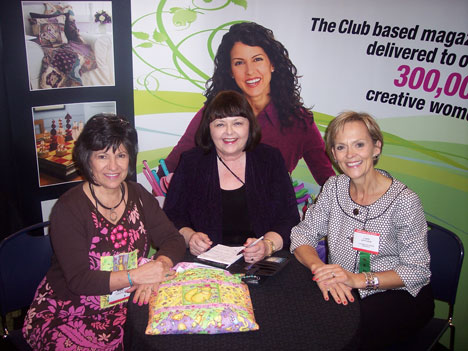 Julie Stephani is sitting in the center and Carol Zentgraf is sitting on the right side.    Julie is the editor of Today's Creative Home Arts magazine.  Carol is a very talented designer specializing in sewing projects.  Its always a delight to be with these two as our conversations are always filled with many, many laughs.
I have to admit that I don't know the 4th person behind us. She surreptitiously joined our photo session. We were in the Home Arts booth and didn't realize until later that we were posed in front of a photo in the booth background – she fit in just like she belonged! Also note my tote bag – made with my new Meow Meow cat fabric from Quilting Treasures.
I'm afraid that I interrupted Gina Halladay's lunch in the booth of her and Stephanie Goudzwaard's pattern company, Threaded Pear (introducing several new patterns).  Gina is such a cut-up, plus she looked simply fabulous.  I just loved the booth sign using red long johns – what a great idea and easy to spot!  Gina is also a blogger extraordinaire with her hit blog, Quilters' Buzz.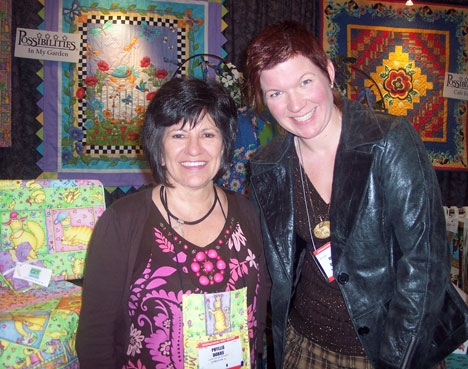 Another friend, Desiree Overtviet, travels a great distance to attend Quilt Market.  She is from Holland where she owns a very successful online fabric and quilt shop, Desiree's Lappeteknikk.  Desiree is fun as well as very interesting.  I enjoy hearing about her life in Holland, which she tells with a humorous slant.  And Desiree is definitely a shoe lover, traveling with many pairs of gorgeous and stylish shoes including some Jimmy Choo's.
Proof reading this post reminds me of two quotes.  "Laughter is the shortest distance between two people" (Victor Borge).  Plus "A good snapshot stops a moment from running away". (Eduora Welty).  Note to self – remember to pull the camera out more often!