If you are like me, you have a lot of clothing hanging in your closet that you no longer wear. But there is something you still love about these pieces – the color, fabric design, etc. Repurpose or upcycle it to give it a new life. I repurposed a pair of capri pants made with fabric that I loved into a decorative pillow for a guest blog post on FaveCrafts for Earth Week. I had never worn these pants and think that I bought them just for the fabric.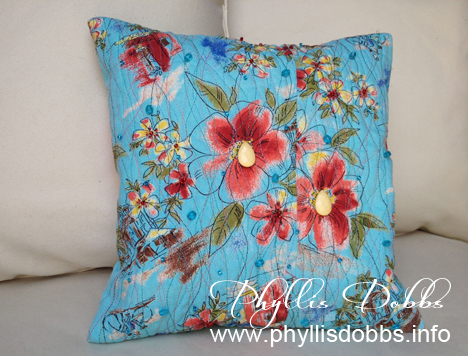 Although I chose to make a decorative pillow, you can make many different type projects using this technique. I added detail to the pillow top by sewing multiple wavy lines of both non-metallic and metallic Gutermann threads vertically to quilt the fabric to a piece of cotton batting.  I used different shades of both turquoise and coral threads in addition to a black thread. I also sewed turquoise, red and yellow beads randomly and to the flowers. Please visit the FaveCrafts blog post for full tutorial instructions as well as additional photos.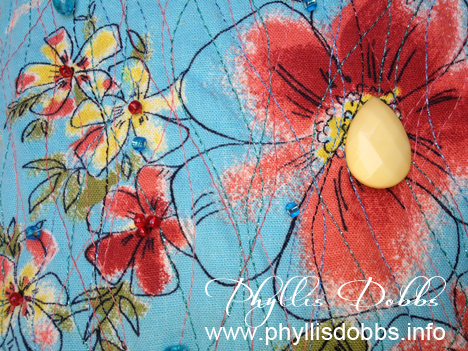 In addition to your closet, you can locate fabulous finds at thrift stores or yard sales to repurpose. I'm a fabric junkie so I always keep my eyes peeled for fabrics, as well as sweaters and other items I can sew into something else or use in other type of crafts.
Phyllis