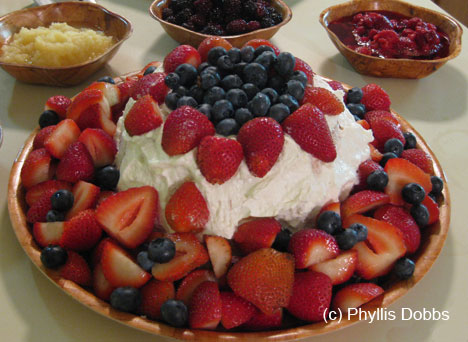 Isn't this cake gorgeous as well as delicious looking?  And it was delicious – every bite.  I hosted our book club this week.  Our club has a very wide assortment of ages and the youngest member, Alyssa, is leaving for college.  Andrea, her mother, wanted to surprise her with a cake at our meeting.  In order to surprise Alyssa, the components for the cake arrived early with another member, Jan, who assembled it.  The cake looked like it was quite an effort, but was very quick and easy to put together.  Maybe because Jan is a photo stylist for a cooking magazine, Cooking Light.
Starting with a purchased angel food cake,  Jan quickly spread a can of whipped cream over the cake then arranged strawberries around the top edge of the cake.  The hole in the center of the cake was filled with blueberries, then the remaining strawberries and blueberries were piled around the bottom of the cake.  Easy – yes! Quick – yes! Delicious – yes, yes!
This cake would be equally delicious made with various cakes – a pound cake or even chocolate, but of course a few calories would be added as well.
Have a sweet day!
Phyllis