I know its May and the weather is getting hot, but its not too early to start thinking about your Christmas quilting with this free quilt pattern that I designed!  Think "Let it Snow" to cool down with this adorable fabric collection from Quilting Treasures based on the art of Debra Jordan Bryan.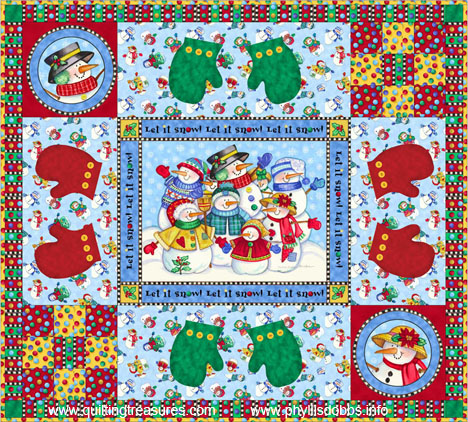 It was a treat to design this quilt with the fun, colorful fabric.  At 43 1/2″ x 48 1/4″, its a perfect size for a wall hanging, a lap quilt or for a little one to cuddle with. The quilt is pieced and is topped with appliqued green and red mittens in the wide border area. Buttons are used for accents on the mittens. The quilt center is a snowman panel with other snowman pieces in the corners. Its easy to piece and is a great project for beginners as well as all skill levels.
When you check out this pattern, look through all the other free quilt patterns from Quilting Treasures. I'm sure you will find several that you will love!
Happy quilting and stay cool!
Phyllis