I decided to take a day away from my studio this week for a "Girls Day Trip". We planned a trip to a small town that we could drive to within an hour or two. After considering our options, we decided on the town of Scottsboro, AL, which is approximately 127 miles away. We had an ulterior motive – shopping. (We are women after all.) But the best stop was for lunch at an old-fashioned soda fountain.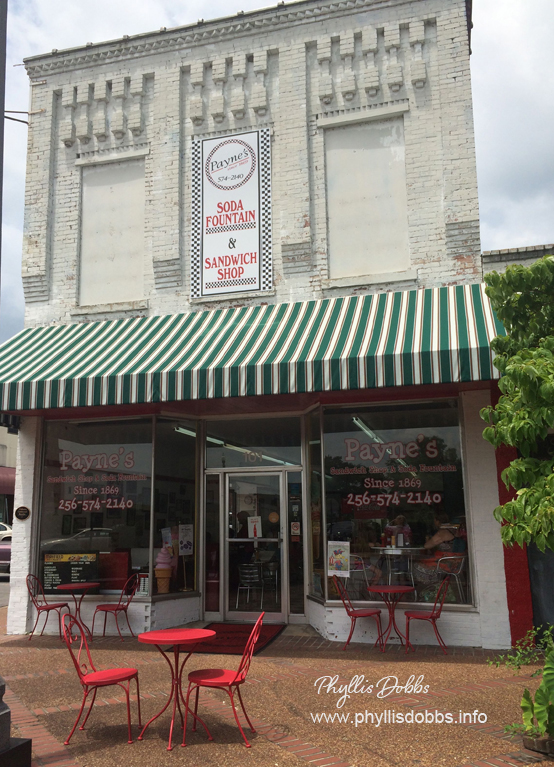 Payne's Sandwich Shop and Soda Fountain is an authentic old-fashioned soda fountain. It is 147 years old and still has that vintage feel of stepping back in time. I guess pulling out my iPhone for pictures was a little out of step, though.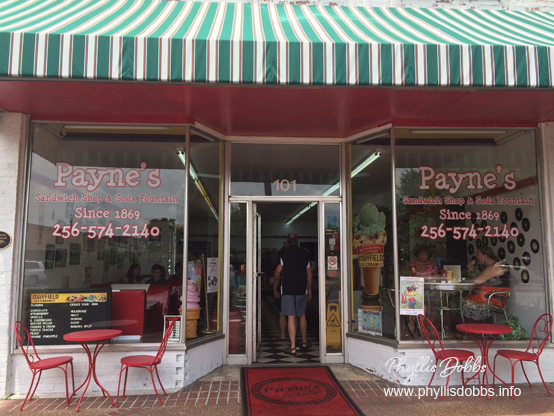 Deciding on Payne's for lunch was easy. An internet search by one of my friends, Jan,  pulled up a review showing a very high rating. After eating there, we definitely agreed. Two of us had BLT's which were delicious. The other two had different choices and also loved theirs.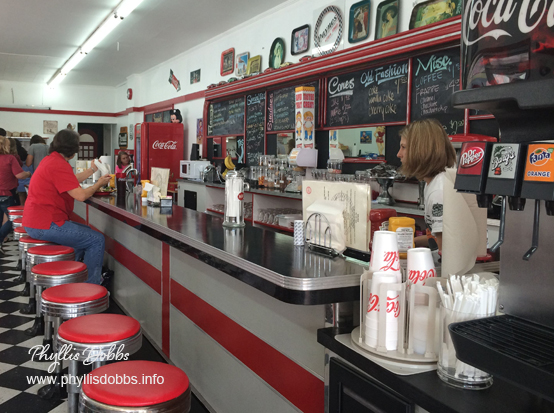 I love this row of soda stools and the counter. We would have loved to eaten at the counter but couldn't talk as much if we were spread out!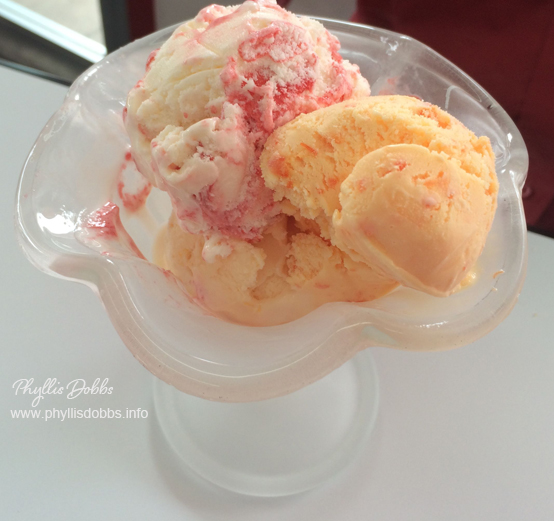 And of course, being a soda fountain, there was ice cream.  The chalk board had a long list of flavors and types – shakes, sundaes, malts, floats, splits, and much more. Jan ordered this dish of scoops. I just love the colors – they make a great color scheme for art or decorating.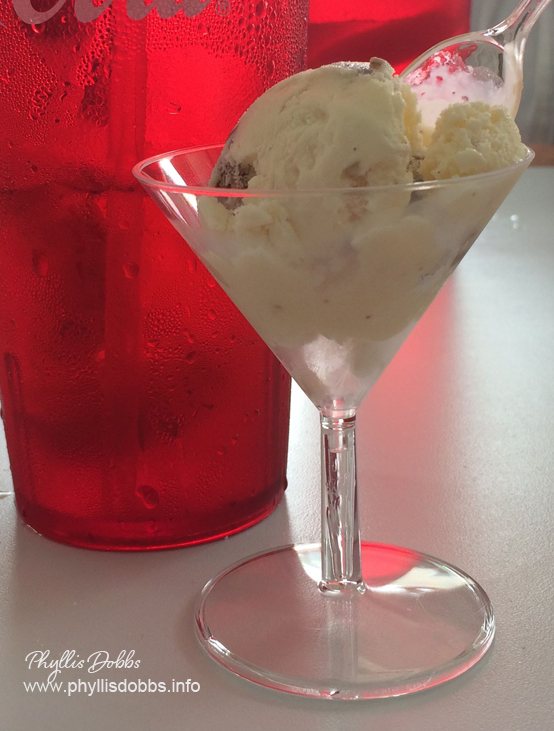 I was so full that I was going to pass on ice cream even though I really wanted some. The hostess suggested a very small scoop.  It was just a few small bites of Butter Pecan and enough to satisfy my craving.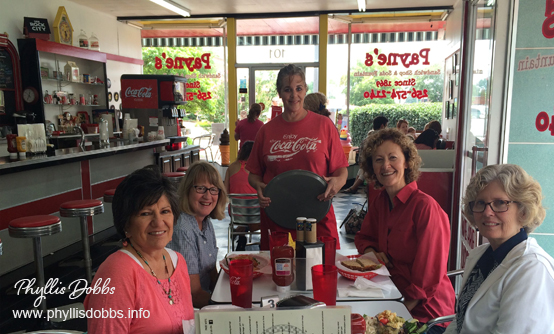 And here we are! Starting at the right, Vicky, Jan, the owner, Jeannine and myself. We knew we were in for a treat talking to the owner. When she came to our table, one of us asked "what are you known for" and she answered "bad advise". She was a delight and gave us a lot of attention and information about the restaurant.
Although we planned to stop at any spot we found interesting during our trip, our main goal was the "Unclaimed Baggage" store. None of us had been and wanted to see what it was like as it's where all the lost airline luggage ends up. I thought I might find a piece from my luggage lost many years ago, LOL.  The store had lots of items, was clean and organized, and had much more product than from airlines. They said that the items came from anything that involved travel and included a lot of new things (from lost containers?).  It was kind of like a thrift store on steroids! We didn't buy much, mainly a few books (I just started the new Dean Koontz book that I bought). I bought a lot of very inexpensive costume jewelry to tear apart and make into other things, maybe add to quilts.  Who knows, but at a couple of dollars each, it was too good to pass up. You know how crafters and artists are, add a little sparkly, beads, etc. and our eyes glaze over.
But the bottom line is that we had a blast, just talking about anything and everything that came to mind with a lot of laughs. A day like this is good for the soul!
Here's to the power of girlfriends!
Phyllis