The mail was good today.  I received copies of a magazine – Designers' Quarters that had a feature article on me and my Sweetheart Ballerina fabric line with Quilting Treasures by Cranston. Sweetheart Ballerinas is my debut fabric line with Quilting Treasures, so I was thrilled with this article.
I will show you two pages pages from the 6 page spread.
"Dance with Flowers" is the name that I gave this quilt. Its a twin bed size quilt and is created with the aqua color range.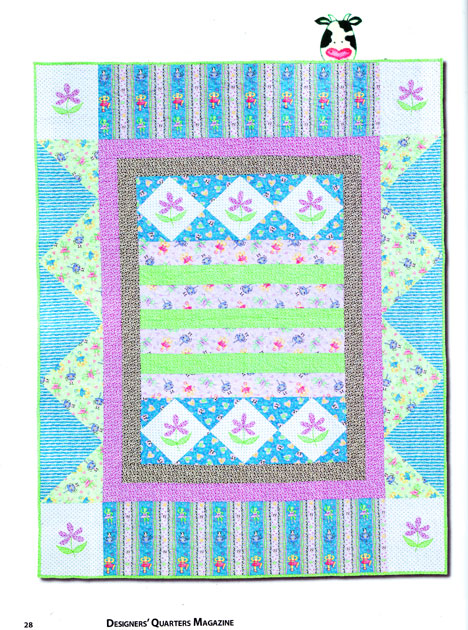 I wanted the quilt to be a unique design, which I designed around the fabrics.  The magazine features the pattern for this quilt.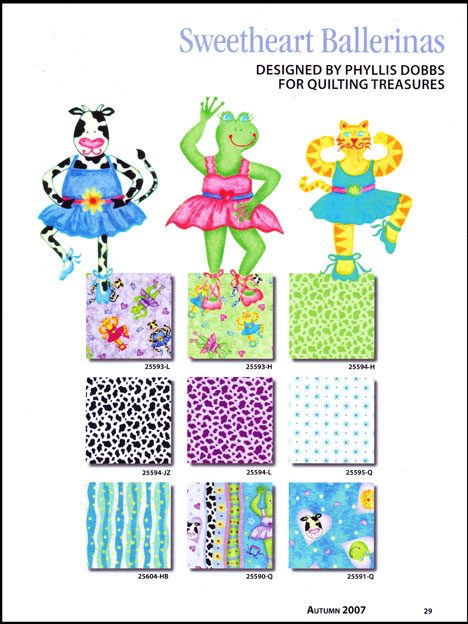 This page shows swatches of the fabrics that were used in the quilt. Designers' Quarters is a fabulous magazine for quilters. It contains 10 quilts with patterns, information about the fabric used including the style numbers, and information about the designer and the inspiration for the fabric design. Its published 4 times a year and is available through independent quilt shops as well as online at their website, www.designersquarters.com
After I received the magazine and was intently reviewing the article, my husband Danny looked at it also.  With the intent of being complimentary, he said that I "looked younger" in the magazine.  Now, as a woman, this is not exactly a compliment. Well, I didn't let it stop there, but asked him if he meant that I looked older now. He realized his mistake and tried to backpetal.  He did get me to concede that I really am 3 months older than the photos.  Men, go figure!