Keep It Green" art is a fun and whimsical way to show your love of the earth and in protecting it.  The elements of earth are incorporated into this art, with the sky, stars, seas, and forests all represented in borders that surround the earth.  A small blue whale adds a charming touch to the seas. The image is available on products in my Zazzle store.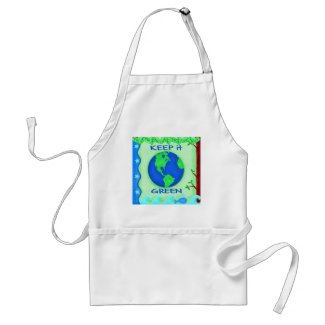 Keep It Green Apron
by
phyllisdobbs
View other
Earth Aprons
The products available include the apron above (aprons aren't just for cooking but can be used for crafts and gardening as well).  Other items include tees and other clothing, totes, stationery items, stamps, and much more.  There's even a dog sweater so that your dog can match what you wear as well as help get the message out to Keep it Green!
Keep It Green Dog Coat Sweater Dog Clothing
by
phyllisdobbs
See all the
dog clothes
at zazzle.com
Check out all the other products to show your support of keeping the earth clean and alive for generations to come as well as to support Mother Earth and Earth Day.
Have a great week and remember to help "Keep It Green".
Phyllis