For love of the Irish, this quilt "Memories of Mike"  celebrates Ireland and St. Patrick's Day with the greens of Ireland and the blues of the surrounding water. This pattern is free for dashing through the online Quilt Dash game.  The Quilt Dash starts today and runs through March 31.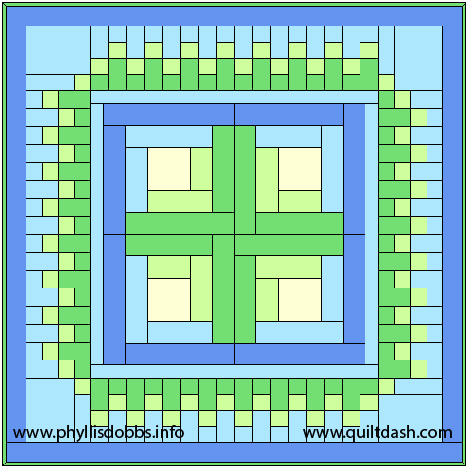 "Memories of Mike", designed by Tammy Harrison, is 71″ square. Although the center blocks are made with the traditional log cabin block, the arrangement gives a celtic knot look to the quilt or can be interpreted  as a lucky 4-leaf clover.
To Dash and receive this free pattern, sign up for the Quilt Dash.  You will visit a few online quilt stores and locate your pattern and instructions. After that, you can have fun quilting this charming pattern.
Enjoy and happy quilting!
Phyllis