Join the Quilt Block Dash, starting Monday June 3 – 13, to receive a free quilt pattern for this Watermelon Crawl quilt, designed by Tammy K. Harrison.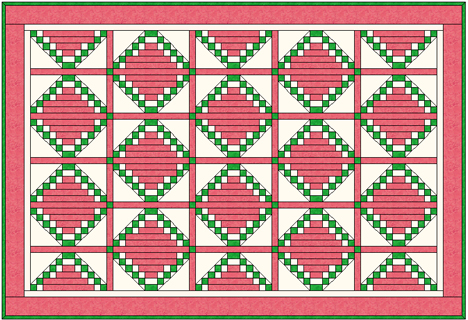 Watermelon Crawl is shown here as how it would look with 3 fabrics. It could also be made with your scraps for a gorgeous scrappy look. Or just make the "watermelons" in the block with an assortment of pink/red fabrics for some scrappiness.
Quilt Block Dash is a fun online shop hop where you receive parts of this free pattern and instructions from each shop that you hop to.  While in the shops, you will find some favorite fabrics and notions. You will also be entered into a free drawing at the end of the Quilt Block Dash for prizes from the shops you visit.
Quilt and fabric shops – join in with the Quilt Block Dash to get more visitors into your stores. Its also a great way to showcase your sales!  Its easy for all.
Meanwhile, I'm going through all my images of exciting things I saw at the International Quilt Market in Portland, OR and will be posting them soon! With my iPhone, it is so easy to keep snapping away, so I end up with tons of pictures to go through.
Check out the Quilt Block Dash and be a part of some quilting fun!
Phyllis