The busy holiday season is approaching with all the holiday festivites, get-togethers with family and friends, good food, shopping, and a rush to finish gifts that you are making. This is a good time to pause and take a hop through blogs to enter for  give-aways for nifty items to add to your quilt or sewing stash of supplies.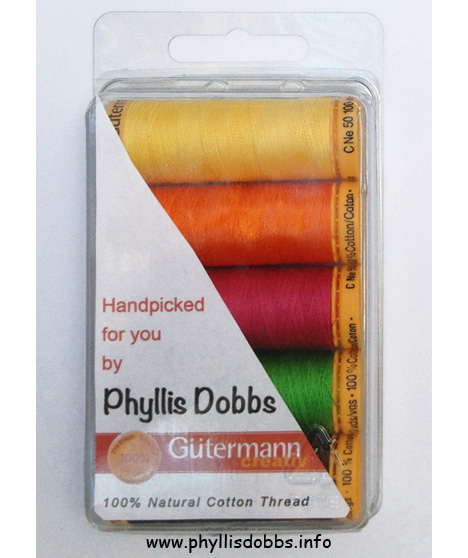 I'm giving away a colorful packet of Gutermann thread. The wonderful folks at Gutermann of America created this pack of 5 spools of 100% cotton thread based on the colors of my new "Wild Flower" fabric collection with Quilting Treasures. You can see that they are the gorgeous bold colors of yellow, orange, green, fuchsia pink and black. You can see my "Wild Flower" collection to see the great fabric colors that I love to work with.
In addition, the prize will include a fat quarter bundle of one of my fabric collections, all in bright colors too!
To enter, leave a comment on whether or not you do any sewing or quilting for holidays or gifts – and what you make if you do. The prize will be selected by a random drawing of those leaving a comment (and those who sign up for my newsletter) through November 26. I will announce the winner on November 27.
In addition, I invite you to sign up for my newsletter, if you haven't signed up already (this is not mandatory to enter the contest). Signing up for my newsletter will give you an additional chance to win.  You can sign up in the first column to the right. I don't send them out often but send them to announce new fabrics, patterns and more.
Click on the Blog Hop image below to find other blogs to hop to – all with great give-aways. You may get lucky and win some prizes to fill your own Christmas stocking!
I was at both the
International Quilt Market and Quilt Festival
held in Houston, TX  a little over two weeks ago. I'm still going through the large amount of pictures I took and will be posting soon with some of the fabulous quilts on display.
Thanks for stopping by and I look forward to reading all your comments!
Phyllis
The winner was drawn on November 27 – see who won the Give Thanks Blog Hop!