If you are planing to take the next important step to expand your creative endeavors into licensing of your art, design or products, then this seminar is not to be missed! "The New Dynamics of Art Licensing" seminar will deliver  straight forward, honest advise, insight and tips for succeeding in licensing. The playing field for licensing has changed drastically over the past few years and this seminar will give you the information you need to overcome these challenges that will save you time and money.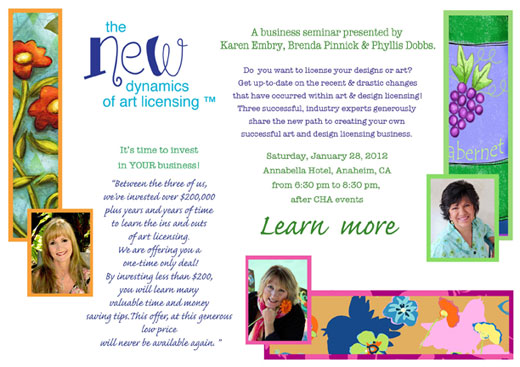 "The New Dynamics of Art Licensing", presented by Brenda Pinnick, Karen Embry and myself, encompassess the extensive knowledge from over 50 cumulative years of experience in art licensing, product design and licensing and exhibiting in major trade shows. The wealth of information that we will share will prove invaluable for your career.
In addition, we will be offering an optional "add-on" for a consult, a review of your portfolio and a look at our own portfolios that we show our clients, tailored to YOUR needs.
WHEN – Saturday, January 28, 6:30 – 8:30, portfolio review/consult scheduled individually.
WHERE – Anaheim, CA,  Annabella Hotel, Azalea Room (next to the Hilton)
Seats are limited, so book early!  We want to see you there.  For more information and details of all that we will be covering in this information packed seminar, follow the link – The New Dynamics of Art Licensing.
Invest in your business! And if you have any questions, please contact me.
Phyllis