We've been so happy with the response that we've received for our exciting new seminar The New Dynamics of Art Licensing (see my prior post)!  And, because we've also have had several creative's asking if were were having it at other locations, we've decided to offer this seminar during the Atlanta Gift Market on January 12, 2012 (Thursday afternoon 2:30- 4:30 pm, the location to be announced later but close to the gift market).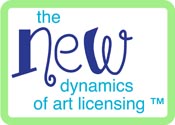 The New Dynamics of Art Licensing is being presented by Karen Embry, Brenda Pinnick and myself, 3 artists with over 50 combine experience with art and design licensing.
For more information on all the topics we will be discussing, please download The New Dynamics of Art Licensing brochure.  We are also having a portfolio review/consult in Atlanta.
We hope you will join us and get the up-to-date information on how to license your art, designs and products.
Phyllis