Spring is almost here, I hope. With that arrival, we will see all kinds of flying things, from birds to butterflies and dragonflies. I love dragonflies and we have a lot of them buzzing around in our yard in the warm months. So, in designing a spring quilt for this month's Quilt Dash, I chose a dragonfly theme.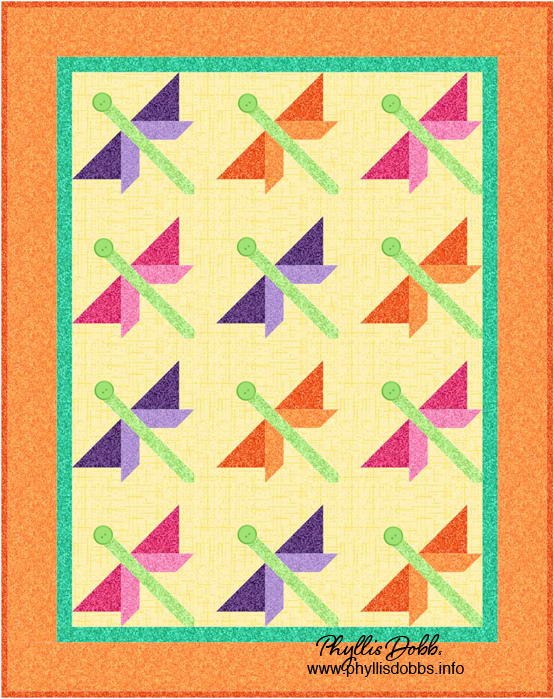 This Dragonfly Flight quilt is a free pattern that you can get by joining the Quilt Dash currently March 16 – 31, 2015.  Joining the Quilt Dash is also free.
Dragonfly Flight is a nice size for a throw, 44″ x 55 ¾", but can be resized by adding blocks. Large green buttons are used for the dragonfly heads. Is a fun quilt that allows you to play with the direction of the blocks and dragonflies to give a totally different look to your quilt. You can make your dragonflies all one color or make them several different colors. I also chose bright color fabrics (from Quilting Treasures) for this quilt as I'm really tired of the dreary winter months and am looking forward to the warm sunny days of spring while I watch the dragonflies flit around.
I hope you will join us in the Quilt Dash and get your free pattern.
Happy Spring!
Phyllis