Saturday, February 15th, 2014
Although Valentine's Day has passed, you can show affection all year with this Sweetheart Quilt made with hearts.  Its easy to make with pieced blocks and appliqué hearts.  This pattern is free by joining the Quilt Dash, available for the next two weeks.  You will dash through online quilt shops to get the pattern and instructions.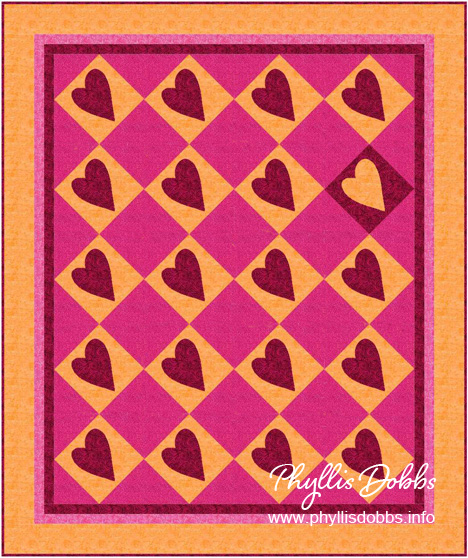 This quilt has one heart block that is different from all the others.  I placed it at the end of a row but you can place it anywhere in your quilt.  This looks like an on-point pattern but it is made with straight horizontal rows, which makes the construction go a little faster.  It also make it easier to resize for your quilt if you want it larger or smaller than this quilt with 20 blocks. The size is 45″ x 55″ which is a good size for a lap quilt.
I hope you are staying warm.  Quilting is a great therapy for cold days.
Stay warm and hope to see you Dashing!
Phyllis