I have some special treats from International Quilt Market.  Although it was close to Halloween, these treats are not the "trick or treat" kind.  They are simply treats to enjoy!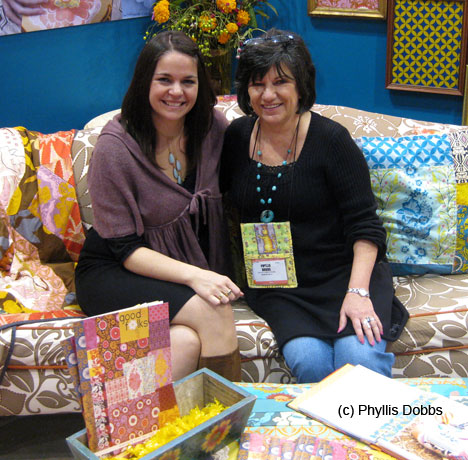 I visited with my friend, Anna Marie Horner, who designs fabrics for Free Spirit.  Anna had some exciting news.  She is expecting a new little one.  And while she was at Quilt Market, she received more exciting news.  Her booth won "best booth" for the 2nd time in a row. Gee, Anna, you are really a superwoman!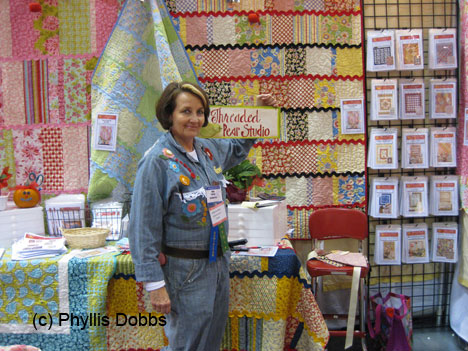 Gina Halladay is the owner of Threaded Pear, a pattern company and is in her beautiful booth.  In addition, she is the author of the fabulous blog, Quilter's Buzz.  Gina also had some good news.  She has purchased a quilt shop, so in addition to her blog, a machine quilting dealership and pattern company, she will have a retail shop. I think Gina qualifies as another superwoman.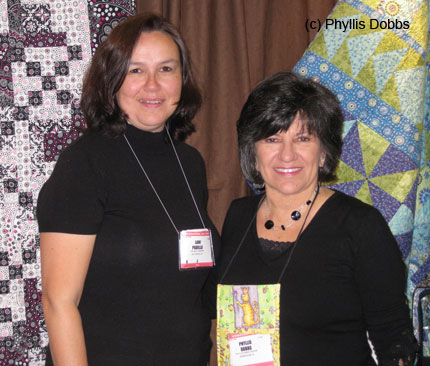 And in addition to old friends, I met up with a new friend who I met through Twitter.  Lani Padilla owns thequiltshope.net, an online quilt shop.  Its fun to meet a Twitter friend in person! (along with her hubby, Sam!)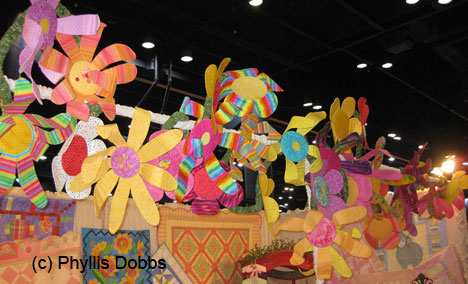 While walking the show, I saw the most beautiful flowers – the large fabric flowers that were across the top front of the booth of Daisy & Dell. The flowers were a really  neat display.  Daisy & Dell is a pattern company from Cypress, TX owed by Pat Bruce.  I love flowers and the fact that these were fabric instead of real, means that they live forever.
Although I don't have pictures, it was fabulous to spend time with my wonderful friends, Brenda Pinnick and Vicky Schreiner.  Spending time with friends makes the shows even more special.
I still have more to show from Quilt Market – check backfor more gorgeous exhibit quilts.