"Bee Yourself" fabrics that I designed for Quilting Treasures shows bees in their favorite hobbies.  There is a bee for everyone! I've talked about the fabric collection in prior posts, but want to let you know about some free patterns for "Bee Yourself". Quilting Treasures has several patterns that I designed with this fabric collection, available for free download on their website.  With these 4 patterns, there is plenty of inspiration and sewing for you.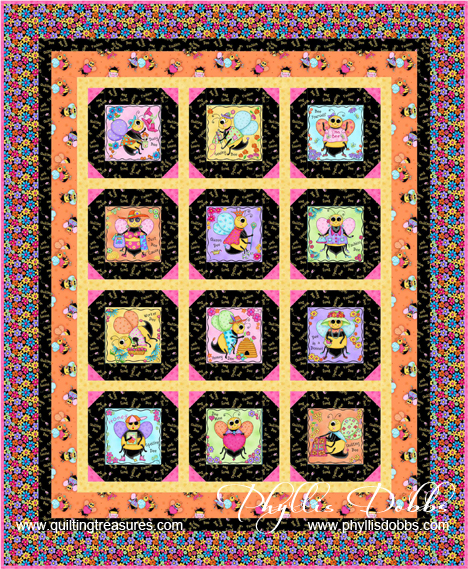 This "Bee Yourself" quilt is 53″ x 65″ inches in size with multi borders.  The blocks are pieced using the bee blocks in the panel fabric, surrounded by the black "words" fabric to make the blocks "pop".
This table runner will add a delightful touch to your table or chest.  The finished size is 66″ x 18″.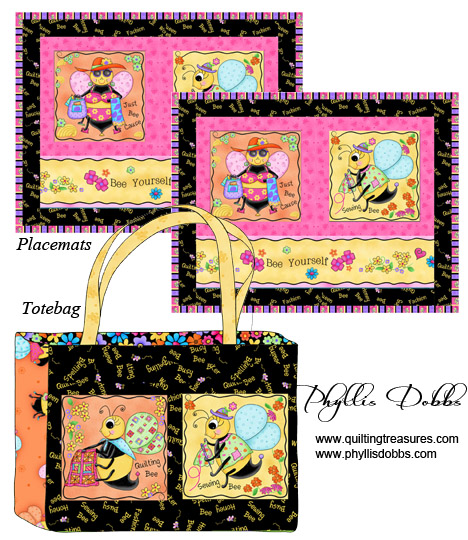 Create a tote bag to carry your quilt or sewing projects to your guild meetings or classes, or use for shopping to show off which "bee" you are. This free tote bag pattern is a great size – 16″ w x 10 1/2″ h x 5 1/2″ d. In addition, this placemat can add some fun as well as color to your table setting. The size is 19 1/2″ x 14 3/4″ and has instructions and yardage for making in sets of 2.
These patterns are in 2 downloadable pdf's – one with the quilt instructions and the other with the instructions for the placemat, table runner, and tote bag.
To see these projects on display at the 2012 Fall International Quilt Market in Houston last October, read about it on my prior post about Quilt Market.  But this is not all – you can see some other "Bee Yourself" projects that were displayed at Quilt Market.  I will have the decorative pillow, apron, pot holders and smaller tote bag posted here shortly.
"Sew," while the weather is cold and chilly, you can have fun sewing and quilting with these patterns!
Hugs,
Phyllis